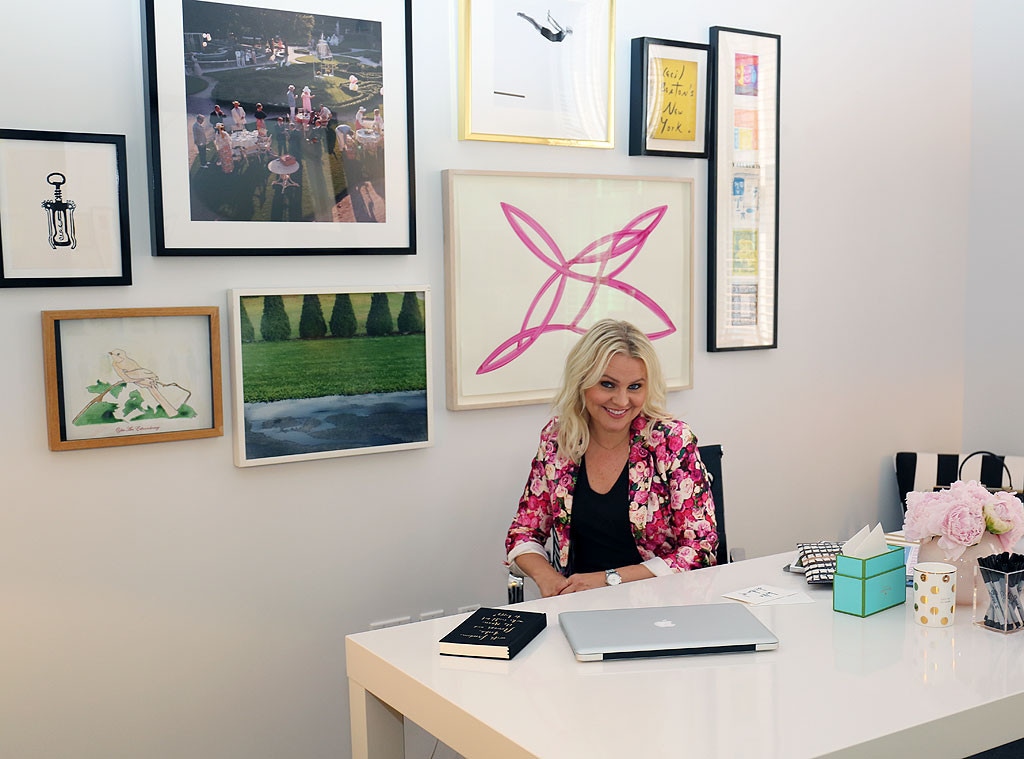 Jennifer Cooper, E!
Going into a Kate Spade store is one of those giddy, kid in a candy shop-type experiences that will just never, ever get old. The colors! The clothes! The shoes! The bags!
So for this edition of Trendsetters at Work, we interviewed Johanna Almstead, Kate Spade's director of public relations to find out how she landed her sweet gig.
Keep reading to hear her favorite piece of career advice and what an average day is like in her crazy busy life in New York City.
What was your very first job?
My first job ever was babysitting! My first job in the business was doing showroom sales at a multi-line showroom called Muse Room, which represented young, up-and-coming designers. I worked there while I was studying at FIT.
How did you get started in your career? 
I was finishing up at FIT and had just gotten back from studying abroad in Rome. I was obsessed with working for an Italian company, so I convinced the internship office at my school to get in touch with Prada and tell them they needed an intern like me! I interned there for the summer and on the last day of my internship, they offered me the opportunity to interview for a full-time job there. Obviously, when Prada is offering you the opportunity to interview, you take it! And I got the job!  I was a communications assistant in the PR and Marketing Department. 
Who are some of your career heroes? 
Strangely, most of the women who I admire are not necessarily in the PR field. I look to women like Arianna Huffington, Natalie Massenet, and Kathryn Bigelow for inspiration. These are all women who are pushing the boundaries at the top of their respective fields. I look to women who are strong and smart and fearless!
What's a typical workday like for you? 
There is no typical day here, but most days I spend out of breath running from one meeting to the next. I am lucky that in my role I work with so many different people in the company, so I may be on a photo shoot one day with our creative team, to meeting with our international partners to role out a global PR strategy the next. Or I will run from a fitting for a celebrity to a styling session for a preview to a meeting with our Chief Creative Officer, Deborah Lloyd to prep her for an appearance or to review the latest collection. I may be planning an event for 500 people in Dubai, prepping for New York Fashion Week, dressing celebs for an event and reviewing budgets and doing long-range planning and strategy meetings all in one day.
Then I race home to see my daughter, get her bathed and put to bed, try to have dinner with my husband and then get back on my phone to finish up emails before bed. If I am not at a work event, I am a crazy aggressive sleeper, so I go to bed really early because I never know if my daughter is going to wake up really early, and I need sleep to be able to do my job well. I cannot be a zombie at this job!
Describe your office décor. What was your inspiration?
My days here are so insane, that I need my office to be serene. I'd say my space is pretty minimalist with a mid-century vibe, and curated with things I love. I like to look at the pieces that tell stories of my life and my career.  Add to that a little bit of humor (my silver spray painted bunny statue) and a touch of femininity (usually with a bit of baby pink) and maybe a dash of glam. I'm lucky that in our offices we are surrounded with tons of beautiful things—furniture, art, books. 
I definitely had a little help pulling it all together, so it doesn't look like a flea market (I hope). The corkscrew piece is a Hugo Guinness, the photograph of the Garden Party is Slim Aarons and the lamps are vintage. The chairs are also vintage—they were the boardroom chairs in the Capitol Records offices in LA, which our visual team re-upholstered in our signature black and white. The black leather chair in the corner is a vintage Billy Haines. The photo is of my mom and me that was in our Mother's Day window display a couple of years ago.
Name five things that are on your desk right now.
I always carry a pouch around the office with me. It holds my security pass, pens, my two cell phones and a lipstick/gloss/balm or two. I am really into my new acrylic and gold desk accessories. They are from our new kate spade new york stationary and gift collection. I also always have a notebook. If it doesn't get written down, it probably won't happen. I also always love to have fresh flowers. They just make me happy. There are also always newspapers and magazines and usually a handbag or two. 
What do you typically wear to work?
 I am generally a separates kind of girl. I love a slouchy pant (I love the Kate Spade Saturday Draped Pant or the kate spade new york Hutton Pant. I own both in several colors) or a tapered jean with a t-shirt and blazer or jacket ( I am wearing the kate spade new york Millie jacket in the photo). That is the closest to a uniform that I have. If I have a meeting, I'll throw on a power heel and if I'm running around to shoots or appointments, I'll rock it with a cute high-top sneaker. I don't really wear a ton of jewelry, just the watch my husband gave me, my wedding rings and a necklace with my daughter's name on it. I also wear a stack of gold and diamond bands that I have bought for myself over the years. They each mark an important milestone in my life.
What are your favorite stores to shop for work clothes?
I love Net- a- Porter, Cos in London and then I obviously always try to wear a piece of either kate spade new york or Kate Spade Saturday everyday.
What's the best piece of career advice you've ever received? 
Work your butt off when you are young so you have more choices and more freedom as you get older and have to balance things like marriage and kids.
Who are some celebs who have stepped out in the brand? 
Anna Kendrick wore kate spade new york on Saturday Night Live, which was great. Taylor Swift wears us regularly and always looks amazing. Freida Pinto, Camilla Belle and Kiernan Shipka are just a few of the others who have rocked Kate Spade Saturday.
Finish the sentence…
Today for lunch I had…sushi. 
The first website I log onto every day is… Instagram. Does that count?
The beauty product you can always find in my purse is… Nivea Cherry lip balm, but only the old ones. They recently changed the formula and I am not as into the new one!  I also always have Joanna Vargas Daily Serum in my bag. It is amazing! 
My must-have work gadget is…Two I-phones. Obnoxious, I know!
My usual Starbucks order is…Venti iced coffee with a ton of milk. My husband jokes that I like a little coffee with my milk. And whole milk only. No skim for me!
If I need a quick break during work, I usually…go hang out with my team and gossip.  I feel like they are my kids and I love to hear what is going on with them- boys, music – all the fun stuff.  I live vicariously through them, now that I am an old married lady.  And I dole out tons of unsolicited advice!
If I wasn't doing this job, I would be… A jewelry designer and a writer.  I am obsessed with fine jewelry and I definitely have a book or two in me that I am dying to write! I'd also love to own an interiors store. I am obsessed with home furnishings, and retail is in my blood. My grandfather was a traveling shoe salesman.
The best part of my job is… I have the great privilege to work with incredibly smart and creative people everyday.  I am so lucky to be surrounded by people who are crazy talented.