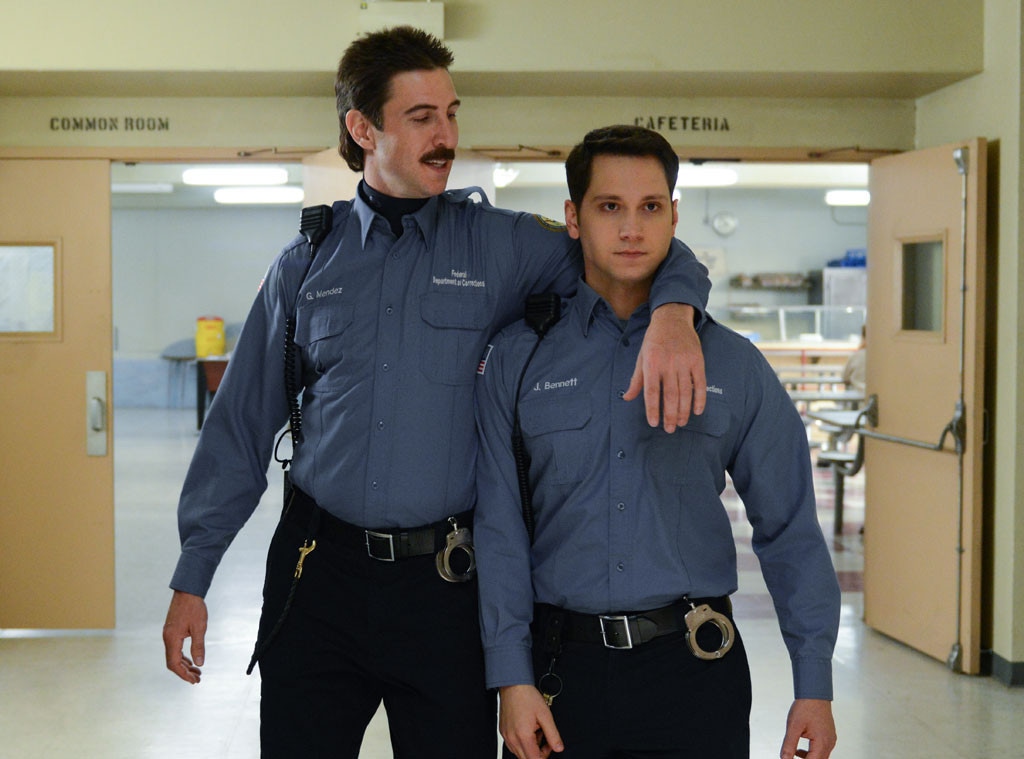 Ali Goldstein for Netflix
Ladies and gentleman: Pornstache has left the prison...at least for season three. Pablo Schreiber announced he will not appear in Orange Is the New Black, which is currently in production in New York, due to his series regular responsibilities on HBO's The Brink.
"I'm not taking part in the third season," he told The New York Post. "I'm a member of a show called The Brink that's going to be on HBO. It's a half-hour comedy with Jack Black and Tim Robbins and me [as] the three leads. I'm really excited about it."
Schreiber, whose other credits include Law & Order: SVU and Ironside, said, "I respect [creator Jenji Kohan] to no end. I think she writes the best dialogue on TV right now. While season three is out of the picture, beyond that is open."
He later reiterated those statements on Twitter. "For all the over-reactors: Just bc P-Stache won't be on Season 3, doesnt mean we won't see him again..." he tweeted.
Pornstache only had a minor role in season two and was last seen being sent away after it was revealed Daya (Dascha Polanco) is pregnant, supposedly with his child. It's really Bennett's (Matt McGorry). Mary Steenburgen is rumored to play Pornstache's mother in season three.
McGorry will pull double duty this year, appearing in both Orange season three and ABC's How to Get Away With Murder.
"Generally speaking, I get to be present in both shows, which is sort of amazing," he told reporters at the 2014 TCA Summer Press tour. "I am allowed to do both, which is incredible and I think ABC giving me permission to do that is really quite wonderful...It's too early to tell how it's going to work, but same way as Pablo Schreiber in season two, you can shoot things out of order. Thankfully, I get to do both."