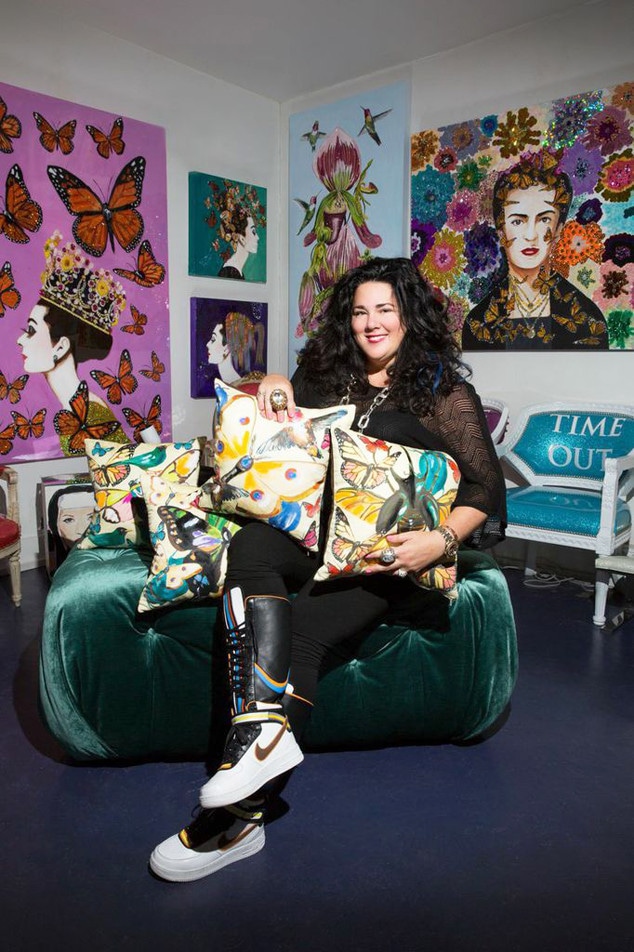 Alexandra Arnold
Collaborating on a capsule collection for Blake Lively's Preserve as the first featured artisan? Consider it a check on Ashley Longshore's list.
The New Orleans-based artist (and Lively's close friend) has a series of luxe, nature-inspired pillows featured on the newly launched lifestyle site. And this isn't Longshore's first high-profile collab—you'll find home goods, bags and more of her work available at Anthropologie as well.
But for Preserve, Longshore's beetle, bird and butterfly-adorned pillows are season-inspired works that reflect the delicate and rustic medley that characterizes the site. In her own words, Preserve is "an exploration of the beauty and uniqueness of products being made by Americans in America."
Longshore is opening up exclusively to E! News on all things art, interior decorating and Preserve. And for even more from Ashley Longshore check out her Instagram, and shop the capsule collection.
When did you first meet Blake? 
I met her four years ago. She told me she passed by my studio every day for weeks, but I was on a creative sabbatical in Maui. When I finally got back, she rolled into my studio one hot summer day all leggy and tousled hair hiding under a fedora…and she was hooked. Little did I know that over the next four years I'd end up painting with her and teaching her to how to paint. She is very talented and very creative and one of the most genuine women I know. I'm so lucky to have this opportunity to bring our work that we painted together and share it with the masses.
Did she present Preserve to you? How did the collaboration happen?
Yes. She came in my studio one day and was very excited. She had commissioned me to do some paintings for her friends and we were talking about that and getting excited about being creative! She was with a good friend from Los Angeles who became a collector of my work on the spot. They both felt that my color, excitement, enthusiasm and passion for the beauty and rebelliousness of life would be a perfect fit for Preserve. I was really excited!
What makes Preserve different?
Well, Preserve is different for a lot of reasons. What makes it different is that a style icon is curating it, but she has really made the focus on the artisan, not on herself. Whether you feel that Blake is a style icon or not, her beauty and style are undeniable. She is very conscientious of details and beauty and what goes in to making something special. Blake isn't about instant gratification. She is much more about the process. Not to be cliché, but it's not always about the destination but the process, and that's what she's trying to say. She is showcasing people who really spend their life perfecting their craft. It's very cool, and I think it's different. The texture of the site is different than any other I have seen.
Why pillows? How did Blake come to love the pillows/want them for the site?
Well, Blake and I spent a lot of time painting together. We would talk about composition and subject matter, pick a color palette and then experiment with different glitters and stones. We both have an appreciation for nature and beautiful creatures and we thought how fun to have a great accessory in the home that was representative of the different beautiful creatures that inspire both of us. 
What's a main source of inspiration for you at the moment?
That's such a personal question. Sometimes inspiration isn't something I can really put into words other than inspiration is a feeling more than a word. It's flashes of color in my brain and compositions that end up on a canvas. But I'm very inspired by conversation pieces, color, anything that radiates light.
How did you first get involved with Anthropologie?
They found me on an inspiration trip to New Orleans and I have worked with them for five years…I was so excited when they called me and wanted to collaborate. I have designed so many great products for them. It's been a lot of fun!
Describe the aesthetic of your own home.
Parisian-style walls, floor-to-ceiling paintings from artists from my world travels, sculptures I've purchased at Art Basel, vases of flowers everywhere. Stacks and stacks of art books and edgy art magazines.
What's some advice for someone who wants to brighten up their home without spending a fortune?
The best place to spend money is artwork. This is why I have launched Artgasm. It's a platform to make art accessible to everyone. You could have a white sofa from Ikea, coffee tables from a garage sale, your grandmother's old vanity desk that was a hand-me-down, a bunch of pretty flowers from the market, then spend your money on art and it all comes together. And don't be afraid to use color. Color lifts the spirit. There's nothing wrong with a serene neutral environment, but color can control and set the mood; it can lift you up and bring you down. Make your home an experience.