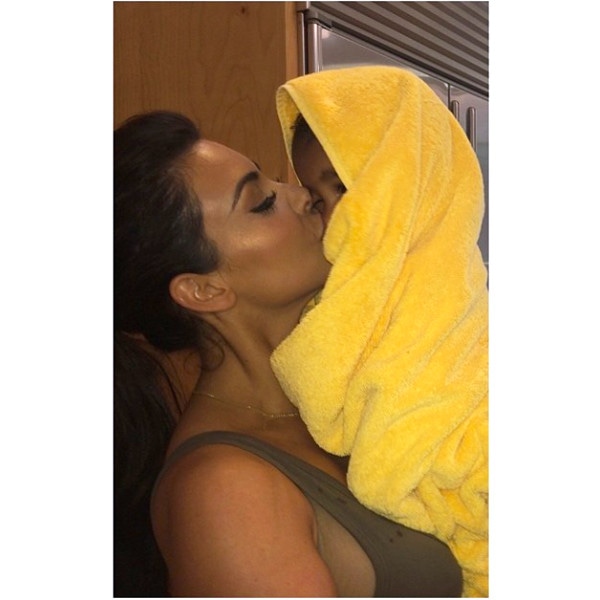 Instagram
And here we thought the biggest Kim Kardashian news for today was going to be her latest bikini pic—we'll get to that—but this is even better!
The proud mommy shared that daughter North West has taken her first steps (!) and posted maybe one of the cutest snapshots of her little girl yet. "Our baby girl finished one week of swimming lessons today then took her 1st steps right when she got out of the pool!!!! Mommy & Daddy are so proud of you!!!! Photo cred: Daddy," Kim wrote.
The picture shows little Nori all wrapped up in a yellow towel after having some fun in the pool while Kim plants a big smooch on her face. Daddy Kanye West isn't seen in the pic since he's behind the camera, but we can only guess that he's flashing a big smile for his princess' milestone.
Soooooo cute! Congrats, Nori!
And now...the bikini photo we mentioned earlier.
In case you've forgotten what the curvaceous brunette beauty looks like in a revealing bathing suit, she was gracious enough to share a photo on her Instagram to remind you—and yes, she's still sexy. Kim flaunts her enviable figure in a tiny gray two-piece while lying down on a white cabana bed to work on tanning her already-bronze body.
It seems to be working, however, because the new mama seems to have some tan lines from her trip to Mexico. And when she's not soaking in the sun's rays, Kim is praising her hubby, who covers GQ's August issue.
"Love this shoot Kanye did for GQ. Best part is all these clothes are from his own closet and he put the looks together! It represents his style so much #GQ," she wrote with a collage of photos from his spread.
And, of course, Kanye gushed about his ladylove during his lengthy interview with the mag.
"Kim is this girl who f--king turns me on. I love her. This is who I want to be next to and be around. And then people would try to say, 'Well, you know, if you're a musician, you should be with a musician, and if you want to design, you need to be with a girl from the design world.' I don't give a f--k about people's opinions," West tells GQ.
"Because when a kid falls in love with an airplane or a bike or a dinosaur—especially if you're an only child and it's not because of the book that the sibling was reading—it's like, f--k, you mean to tell me that the dinosaurs walked the earth and stuff like that?! That's amazing! You mean to tell me that these giant multi-ton crafts can fly that fast and that loud, and they can flip, and there's danger, the possibility of them exploding? That's f--king cool! You mean to tell me that this girl with this f--king body and this face is also into style, and she's a nice person, and she has her own money and is family-oriented? That's just as cool as a f--king fighter jet or dinosaur! And just as rarely seen."
See the wedding preparations unfold on new episodes of Keeping Up With the Kardashians, Sundays at 9 p.m. on E!