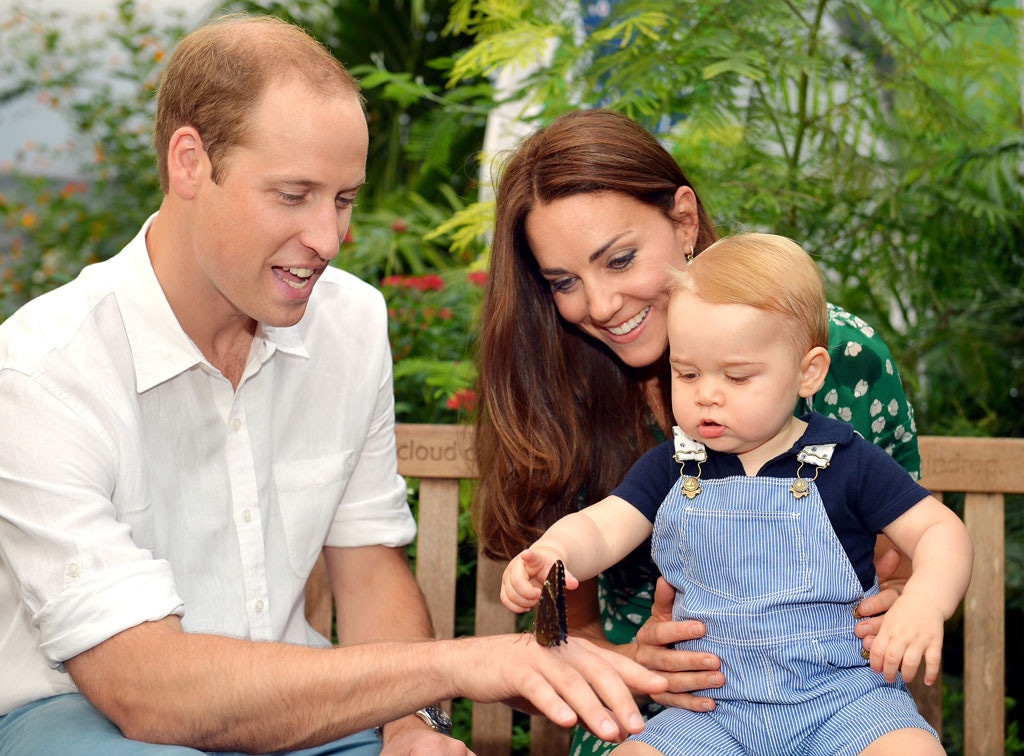 John Stillwell/PA Wire
The only characters missing from Prince George's first birthday party today were Flopsy, Mopsy and Cottontail.
Kate Middleton and Prince William threw their son a Peter Rabbit-themed bash at their Kensington Palace abode on Tuesday, and many members of the young royal's immediate and extended family made the scene (minus grandpa Prince Charles, who's in Scotland, but will be on his way back with a stuffed squirrel to give to his grandson).
Queen Elizabeth II was chauffeured to the party, where she stayed for about 50 minutes, just hours after Kate was seen driving George to Buckingham Palace for an early-afternoon visit with his grand-grandmum and great-grandfather Prince Philip, who couldn't make the evening party due to a work commitment. While Kate and George were visiting, the Irish Guard outside reportedly played "Happy Birthday."
Prince Harry; George's godparents including Jamie Lowther Pinkerton, Emilia Jardine Paterson and Zara Phillips, who was with husband Mike Tindall with their daughter Mia; Kate's siblings James and Pippa Middleton and their parents Michael and Carole Middleton were all there for the party as well.
Ben A. Pruchnie/Getty Images
Stacks of wrapped gifts could be seen through the windows of some of the cars that ferried visitors through the gates.
The Middleton family, whose business is party-planning after all, was reportedly responsible for the Peter Rabbit theme. Carole's site, Party Pieces, offers a range of adorable decorations, table settings, invitations and other themed accessories to do it up right.
Peter Rabbit; Getty Images
Elsewhere in London, there were plans to illuminate the Golden Jubilee Bridge and the Marble Arch with blue lighting between 8 p.m. and midnight in honor of the royal baby's milestone birthday.
Robert Davis, deputy leader of the Westminster City Council told Get West London: "Turning these iconic landmarks blue once again is a fitting way to recapture some of the excitement of last July and a great way to mark the prince's first birthday. My congratulations go to all the royal family on this day and on behalf of everyone at Westminster City Council, I would like to wish His Royal Highness Prince George a very happy first birthday."
Prince Charles, meanwhile, made a visit to Glendelvine Estate, a conservation center for woodland creatures in Scotland, where he was presented with a big plush squirrel to give to Prince George.
"He was most taken by it," Ken Neil of the Saving Scotland's Red Squirrels campaign, told the Daily Express. "It's quite large so we were joking that it was to scale because the Glendelvine red squirrels are so healthy."