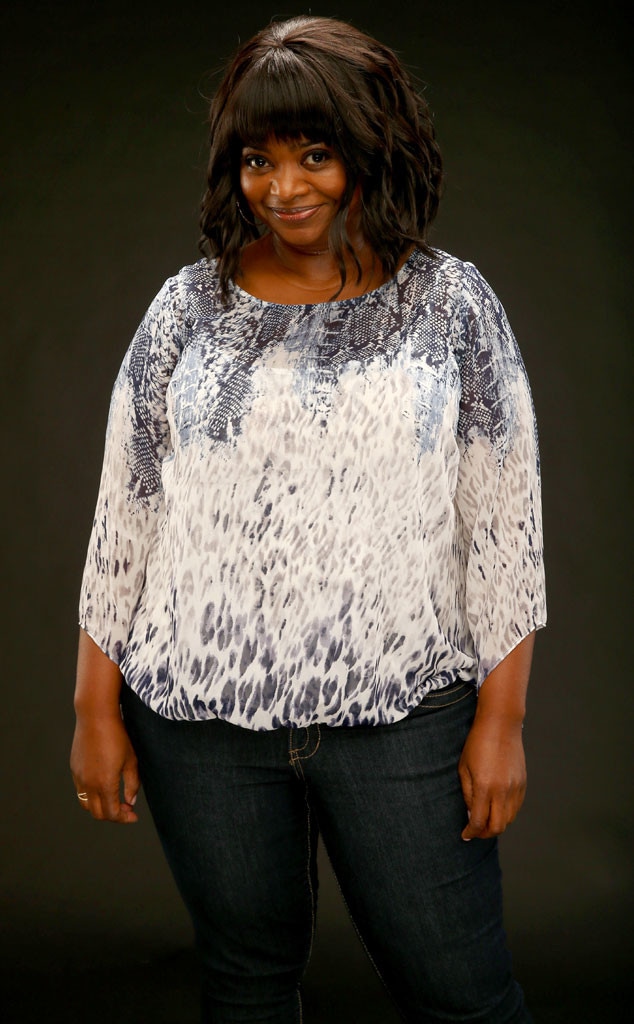 Christopher Polk/FOX/FOX Collection/Getty Images
"Everything happens for a reason."
Octavia Spencer told E! News she's a firm believer in that thinking. The Oscar winner was curled up on a couch at the Beverly Hilton next to her Red Band Society costar Dave Annable on Sunday, July 20, to promote their new Fox series, but this scenario was very close to not happening.
Spencer was attached to star in the headline-grabbing NBC reboot of Murder, She Wrote as a hospital administrator and mystery writer. The project got a lot of attention, especially after original series star Angela Lansbury spoke out about the reboot and its eventual combustion. Spencer said she's "glad" things worked out the way they did.
"You know, that would not have been the right fit for me," Spencer told E! News about Murder, She Wrote. "Although I love Bob and everybody over at NBC, I think things happen as they're supposed to. I am a detective and curious person by nature, that's who I am and I always thought that's who I wanted to play. But when you're on a television show, it's a marriage and when you take that vow to be on a series for seven years, it should be something that you want to see and a character you want to learn about, and with a group of people that you want to see for the next seven years."
Now Spencer is starring opposite Annable and a group of young actors on the hospital dramedy from Margaret Nagle and Steven Spielberg. "Steven Spielberg is my favorite director. He has exquisite taste and I love everyone over at Dreamworks," she said. "I love the fact that Fox is edgy and they like pushing the envelope. Margaret Nagle, I mean come on. And this guy I'm a fan of [motioning to Annable], I just felt like I had the best of all possible worlds choosing this project."
Spencer won the Oscar for The Help and has lately spent most of her time on the big screen starring in numerous movies including Fruitvale Station and Insurgent. But Spencer is no stranger to TV—nor is she a stranger to playing nurses—so what brought her back to the small screen in a full-time capacity? She was "tired of being a sex symbol," she cracked at the TCA panel for Red Band Society, but it really was the role.
Spencer's The Help costar Viola Davis is also the lead in a buzzed-about TV show, ABC's How to Get Away With Murder, and Davis said she's on TV because she's ready to be "the show."
"I think people migrate towards material, especially after they reach a certain age, certain hue, certain sex. And I have to say, and I will be bold enough to say, that I have gotten so many wonderful film roles, but I've gotten even more film roles where I haven't been the show. It's like I've been invited to a really fabulous party, only to hold up the wall," Davis said. "I wanted to be the show. I wanted to have a character that kind of took me out of my comfort zone. And that character happened to be in a Shonda Rhimes show in How to Get Away With Murder."
That wasn't necessarily the case for Spencer.
"For me, I am an actress. There are only certain archetypes that people have allowed me to play: The nurturer, the caregiver, the sad mom, the distraught mom, and I kind of didn't want to be just that. I wanted a character that I could grow with in a situation that I felt would be something that contributed to the world," she said. "Not just in an entertaining way, and what Red Band Society does it checks all of those boxes. And you know, there aren't that many roles out there that are being offered to character actresses that you get to evolve with. I don't necessarily want to be 'the show' because I like having a personal life. When you are 'the show'—"
"When you're House on House, you're there," Annable interjected.
"It's 99.9 percent. I'm really glad—and trust me, I got offered a lot of projects where I was the show and I actually took one and it fell through, and I was so glad because I didn't think about what that meant," Spencer said about Murder, She Wrote. "I like ensemble pieces. For me it's more about having the balance of a great job with a great bunch of people that I enjoy seeing everyday, but also the balance of home life."
Stay tuned for more from Spencer and Annable.
Fox's Red Band Society premieres Wednesday, Sept. 17 at 9 p.m. on Fox.