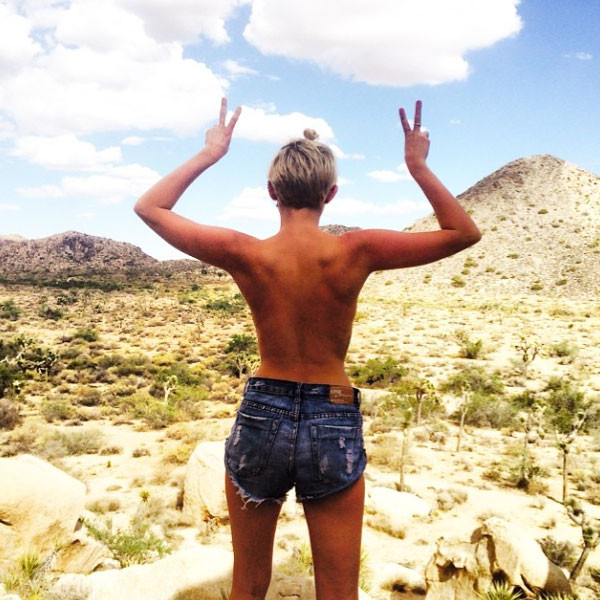 Instagram
That's no mirage—that's Miley Cyrus posing topless in the desert.
The 21-year-old "We Can't Stop" singer took her tatas out and soaked up the sun Monday. The saucy Instagram picture shows Cyrus from behind, wearing cutoff denim shorts and gazing into the distance.
The provocative pop star spent the afternoon taking selfies and sharing them via the social media site. In one set, Cyrus rocked a braided topknot and modeled rainbow hair extensions. To complete her bizarre look, the "Wrecking Ball" singer used a "bedazzled bandaid" to make "an ugly pimple" look "pwetty."
It's not clear what inspired her latest photo shoot, but it's not atypical behavior, either. Cyrus certainly has plenty of free time on her hands, as the "Come Get It Bae" singer is currently on a hiatus from her Bangerz tour. The musician's North and South American trek resumes Aug. 1 in Uniondale, New York.
Later that month, Cyrus will vie for two MTV Video Music Awards. "Wrecking Ball," directed by Terry Richardson, is up for Video of the Year and Best Direction. The annual awards show airs live on Aug. 24.