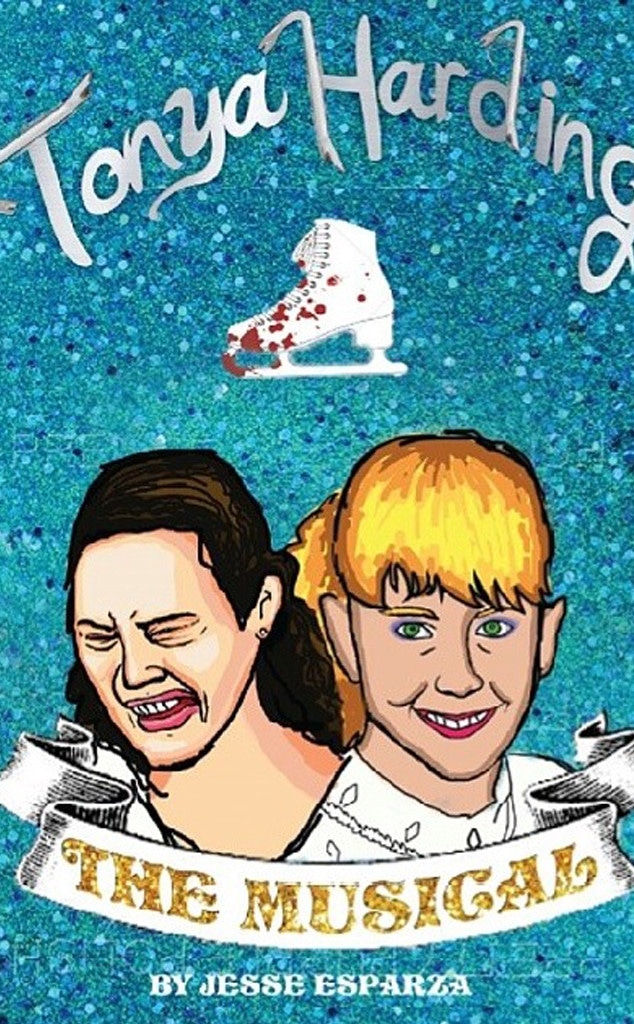 Tonya Harding Musical
This is the Tonya Harding musical you never knew you needed.
(Again, yes, this is a musical about Tonya Harding, the Olympic figure skater who became embroiled in an attack on fellow skater Nancy Kerrigan's leg leading up to the '94 Games.)
Before it makes its (inevitable, duh) debut on Broadway (like Tonya, this show is bound for greatness), it's being put up at the Upright Citizens Brigade Theater in Los Angeles, where it was created by Jesse Esparza with music composed by Manny Hagopian.
Tonya Harding the Musical "chronicles Tonya's journey, from living in Portland with her mother, to rising to stardom after winning '91 nationals, right into the crazy media storm of the 1994 Winter Olympics," the program says. "The story of a small town girl with a big dream, who was willing to do anything to make it come true."
The show features song titles like "Dreams Are the Fast Track to Failure," "Skating's All About the Tits," and "Time to Go Clubbing." We were blessed enough to catch a recent performance and kept track of the most insane, sometimes gasp-worthy, occasionally offensive (in a good way?), and always hilarious lyrics:
1. "To be the best she'll take on any feat, even if that means she has to chea...Try harder!" (sung by Tonya Harding)
2. "JFK won the space race... but then someone shot off his face." (sung by Tonya Harding)
3. "The Wright Brothers invented the airplane, so 9/11 is their fault. They're to blame/ What's 9/11?/ I don't know, I didn't say that!/ You just said 9/11/ It sounds like a thing, it's weird cause this is the 90's." (sung by Tonya Harding)
4. "I don't have to try hard I can get away with anything, 'cause I'm pretty/ Skating's easy, even if I fall down it's no big deal 'cause I'm pretty." (sung by Nancy Kerrigan)
5. "Skating's all about the dress, dress, dress/ And how it punctuates your chest, chest, chest/ I'd love to rest my head upon your breast, I must confess/ Those lovely poke out nipples make that dress." (sung by Jeff Gillooly, Tonya's ex-husband)
6. "Skating's all about the moves, moves, moves/ But more importantly your boobs, boobs, boobs/ Those are things that I truly approve. I love those boobs those perky little—oh, look a nipple!—ice cold moves." (sung by Jeff Gillooly) 
7. "But no I can't let her win/ I'm gonna take this club and break her f--king shin!" (sung by Tonya Harding)
8. "No more time for lovin'/ I'm gonna go clubbin." (sung by Tonya Harding)
9. "Nancy is too pretty to not be the gold medal winner. Those teeth!...Tonya looking like a butch gazelle." (sung by the Olympics judges)
10. A quote by Tonya Harding's mother: "You think you're so much better than me!  Well you're not!  You're just gonna end up like me!  A waitress with a liver problem."
11. A quote by Jeff Gilooly: "You're just jealous because I'm doing triple axels with my words!"
We give this musical the gold. And none for the Nancy Kerrigan musical. Bye!
If you're in the L.A. area (or willing to travel for a Tonya Harding musical, which who wouldn't be?) there is a performance tomorrow night, July 22, and another August 7 at 9:30p.m. Buy tickets here.