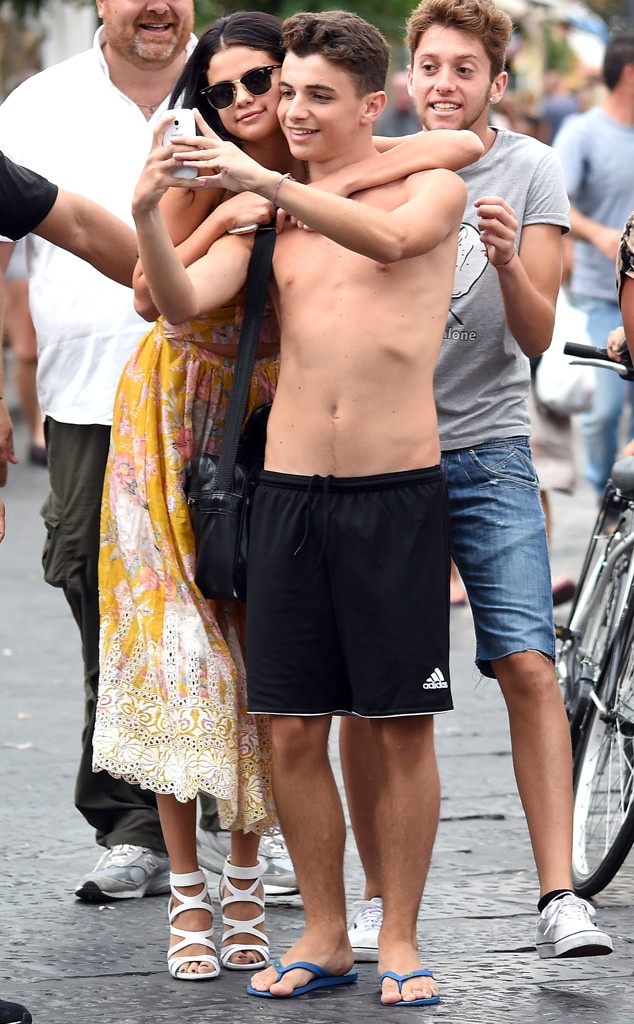 Venturelli/Getty Images
It's safe to say Selena Gomez is getting a very warm welcome in Italy!
While in Italy for the Ischia Festival, the 21-year-old singer took some time to mix, mingle and take photos with swarms of Italian fans.
Dressed in a colorful floral-print dress with a stomach cutout paired with sunglasses and heels, Gomez was all smiles while greeting fans on the streets of Ischia. The "Slow Down" crooner stopped to take selfies with one group of fans before giving one very young boy on a bike a little peck on the check.
Meanwhile, one older shirtless male fan took the opportunity to take photos with Gomez, who wrapped her arms around the handsome teen. Gomez posed with other male suitors, one of which even gave her a big kiss on the cheek.
But the fan photos didn't stop there. While riding in the back of her chauffeured car, two boys on a Vespa scooter rode up next to Gomez and she was more than happy to take a selfie with them. "I told them I would," she captioned the smiley shot.
Too cute!
To cap off her day of fun in the streets of Ischia, Gomez grabbed a sweet treat while accompanied by her publicist and some bodyguards.
Watch:
Selena Gomez Sizzles on Red Carpet With Fans