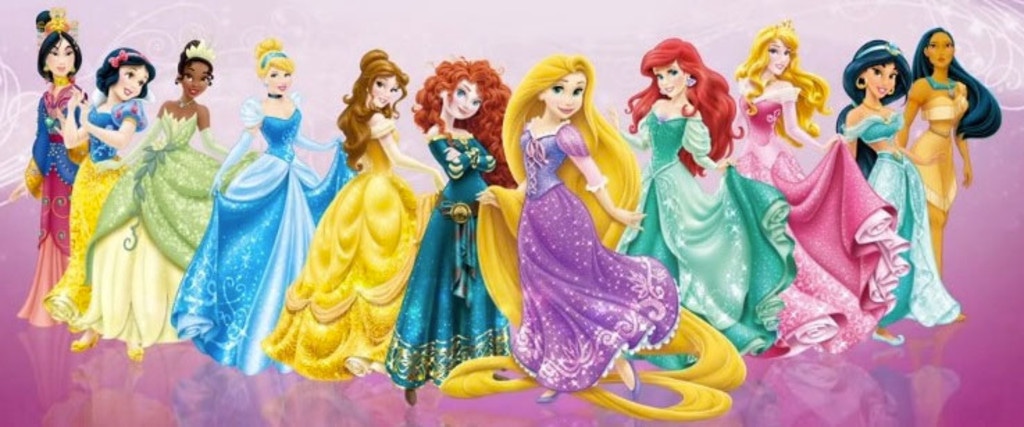 Disney
Not all Disney princess closets were created equal.
Some princesses have multiple wardrobe changes throughout their movies, while others have to tough it out in one outfit for 90 minutes (sorry, Pocahontas).
So, for all our Disney fans and fashionistas out there (that's everyone, correct?)—and in honor of the D23 Expo in Anaheim, Calif.—we've come up with the definitive ranking of all the Disney princesses and their wardrobes. What's the science behind our very serious rankings, you ask? Well, we've taken into consideration the size of each princess' wardrobe, her accessories, and overall sartorial sense.
Who is the chicest of them all? Keep reading to find out who earned our coveted No. 1 spot.
Get ready for a puffed sleeves overload! 
14. Rapunzel
Meh. Forgettable. This lilac-colored thing is basically your average, cookie-cutter princess dress. Perfectly pretty, but nothing to write home about. 
13. Pocahontas
Poor Pocahontas only got to wear one outfit the entire movie, and we're deducting points for her tailored, curve-hugging mini dress seeming a little, er, historically inaccurate. But girl looks good. 
12. Merida
Emerald velvet can be tricky to pull off, but Merida manages. She technically has two outfits, but we're not counting her weird hair-masking headpiece ensemble, because it covers up her best asset: that wild mane. 
11. Snow White
Snow White doesn't have much of a wardrobe, but her iconic yellow, red and blue dress makes up for her lack of options. Plus, her sleeves are just the right amount of puffed. A mark of a true princess.
10. Anna
Jean Gillmore designed the Frozen princess' ensembles, blending silhouettes from mid-1800s Western Europe with the shapes and details of folk costumes from Norway (circa 19th century). Whereas Anna's style is more traditional, her sister Elsa's looks are far more glamorous—like that dress she made out of ice crystals! Still, Anna know what works for her, and she never gets overwhelmed by the many layers needed to keep her warm.
9. Elsa

OK, Elsa is technically a queen, but she beats out her sister Anna for best wardrobe. Before she lets it go, Elsa is hiding more than her icy powers. It's not until her iconic power ballad that we see her shimmering ice blue dress. It's a little Dancing With the Stars, but in the best way possible.  
8. Aurora
Aurora knows how to work a peasant dress, but it's her ball gown that's best. At the end of Sleeping Beauty the fairy godmothers are fighting over Aurora's dress color, magically switching it back to blue and pink, and we wish we could've been there to weigh in and tip the vote. Pink!
7. Mulan
Mulan's wardrobe is definitely the most utilitarian of the bunch. It's always refreshing to see a Disney princess in some comfy, loose-fitting getups. Plus, she's very on-trend right now with the whole menswear-inspired look having been huge on the runways during Fashion Week. 
6. Moana

Make way for Moana! The Polynesian princess made use of limited materials—only tapa and pandanus were available—which she could source from her very own island. According to visual development artist Neysa Bové, "We had a specific rule: 'If you can find it in the island, you can make it.'" And that makes each look's intricate beading and "fabric" dyeing all the more special.
5. Cinderella
Cinderella's pink dress is a little cringe-y, but what do you expect? Birds and mice made it. Her powder blue fairy godmother creation, on the other hand, is breathtaking.  Probably one of the most iconic dresses in the history of Disney princesses, which bumps her up to the top half of our list. 
4. Tiana
Tiana scores high marks for having a wardrobe straight out of the Jazz Age era. We would spend hours sifting through vintage shops to find outfits like these. Her drop-waist dresses and flapper ensembles are tough to pull off, but she does it with ease. Our only beef? Her green lily pad dress is a tad, um, overworked in our opinion. Less is more, Tiana!  
3. Jasmine
Between her closet full of crop tops and harem pants, Jasmine is by far the trendiest Disney princess. And like a true trendsetter, she knows that if you find something that works, buy it multiple colors. Bonus points for having the best jewelry collection; throughout the 90-minute movie she manages to rock a plethora of statement necklaces, oversized earrings, bejeweled hairbands and golden arm cuffs.
2. Belle
Belle is definitely the most couture of all the Disney princesses. She wants more than this provincial life, and her iconic golden ball gown with layers of tulle looks straight off the Oscar de la Renta runway. She also scores points for having the best outerwear of all the princesses. That burgundy fur-lined cape she wears while feeding birds with the Beast during the "Something There" montage is fabulous. 
1. Ariel
Ariel tops our list for having the best sartorial sense out of all her fellow Disney princesses. Give her a rope and a ratty old piece of fabric washed up on shore, and she'll turn it into something that Jennifer Lawrence will eventually wear to the Golden Globes. Her wardrobe is on point from her seashell bra top to that Elie Saab-esque sparkling periwinkle dress she wears at the end of the movie. Plus, she combs her hair with a fork. A fork! She is perfection.
(Originally published on Friday, July 18, 2014, at 2:36 p.m. PDT.)