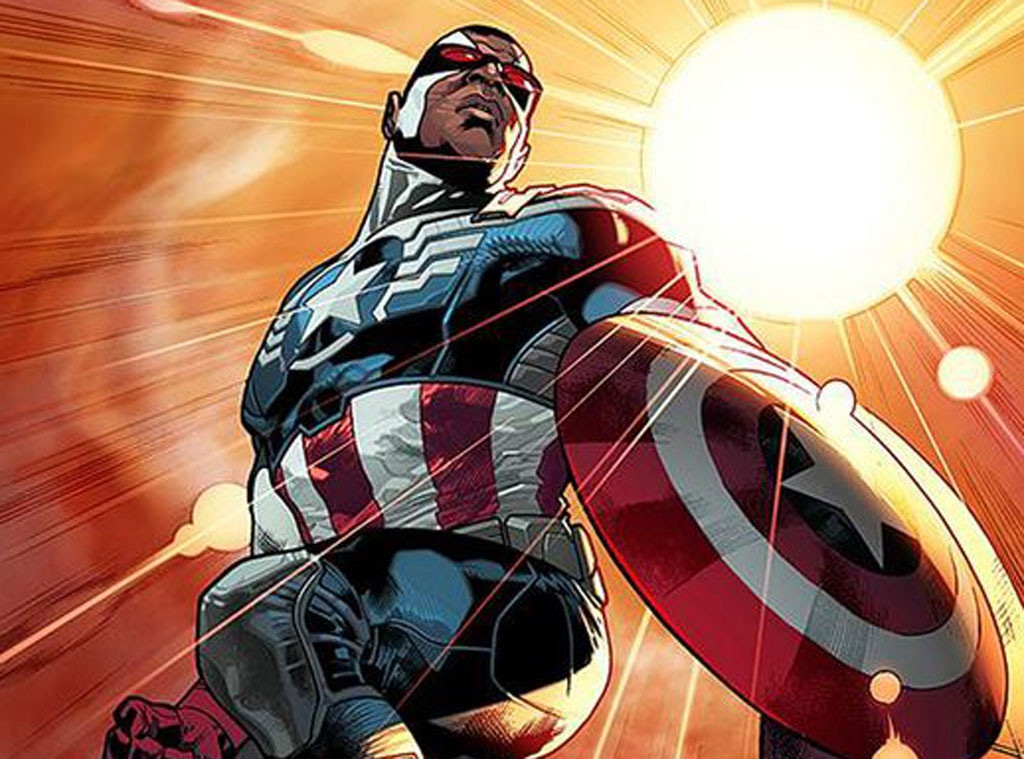 Marvel Comics
The changes keep on coming! Marvel Comics announced Tuesday that a female Thor will appear in the pages of Thor: God of Thunder beginning in October, and on Wednesday, the publisher revealed on The Colbert Report that Sam Wilson—a.k.a. The Falcon—will also replace Steve Rogers as Captain America.
The Falcon first appeared in 1969 and was one of the first mainstream African-American superheroes. In 2007, Captain America's first sidekick, Bucky, became the titular hero after Rogers was seemingly killed.
Wilson played the titular character in a 1998 story arc of Captain America: Sentinel of Liberty. Another African-American character, Isaiah Bradley, played Cap in the 2003 miniseries Truth: Red, White & Black.
Stephen Colbert, who has long featured Captain America's shield on the set of his hit Comedy Central show, discussed the characters' changing roles with Marvel Comics' chief creative officer Joe Quesada. "If there is one bird associated with America, it is the Falcon," the 50-year-old host and comedian said.
The change will occur in the forthcoming All-New Captain America, slated for release in November. Current Captain America writer Rick Remender and artist Stuart Immonen are overseeing the project.
Colbert pointed out Wilson's race, asking, "Does this make him Captain African-American?"
Quesada replied, "I don't see colors."
Colbert then joked, "If you don't see colors, how do you do comic books?"
The Falcon role is unfilled, and as such, Quesada presented Colbert with a rendering of the TV star as in red-and-white tights. "Why did the Falcon cross the road?" Colbert quipped. "For justice, motherf--ker!"
In a Marvel.com interview, Remender discussed the differences between Rogers and Wilson. "I've been having a lot of fun writing Sam. It's a completely different attitude," he said of the character, played by Anthony Mackie in movies. "The fact that he's not a soldier shifts things up a bit. Sam's not going to be Steve. Steve can be very rigid. That can be kind of joyless at times, whereas Sam is absolutely not that."
What will happen to the original Captain America, played by Chris Evans on the big screen?
"Steve's spirit is as willing as ever, but his body is no longer up to the task of being Captain America. So he'll instead employ his skills as the new Cap's remote strategic advisor, running missions from his headquarters in Avengers Mansion and providing Sam with technical support and field information from a distance," editor Tom Brevoort told Marvel.com Thursday. "He'll also tutor Sam in how to throw the shield, a skill that's deceptively difficult for the new Cap to master. So Steve will continue to be a vital part of the series moving ahead. And Steve is completely supportive of Sam as his hand-picked successor—the only replacement Captain America ever to be chosen by Steve himself. Steve and Sam are effectively brothers-in-arms, and there's a level of trust and camaraderie between them that's matched only by that of soldiers who've fought shoulder-to-shoulder in foxholes on the battlefield."