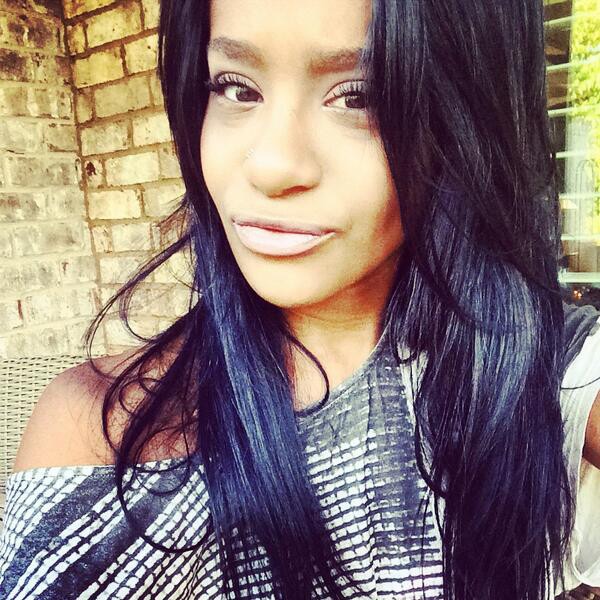 Twitter
Either Bobbi Kristina Brown is doing damage control, or somebody is really trying to stir things up.
Whitney Houston's daughter made headlines after a reported photo of the young star allegedly smoking out of a bong was posted on her Instagram account, however, Bobbi is denying that she ever shared the pic and took to Twitter to slam reports that claim otherwise.
"I've never posted any photo of me doing anything ! This is someone trying to tarnish and make a horrible name for MYSELf. People are insane," she tweeted.
The Instagram photo in question, which was shared on Monday, shows a person that looks like Bobbi Kristina lighting up what looks to be a bong.
Accompanied with the picture is a lengthy caption: "This picture may be inappropriate but I want to make a connection with you all. Don't worry this picture isn't recent just hear me out. Do you know what I feel? I feel strange I can't feel any pain anymore. I don't take any drugs as of recently. Things just happened. But then there is some situation that force me to do things and the impact I'll feel pain. I did and I do. I was hurt.
"People kinda expect more from me. But I can't. I have lost my sense. It just happened. Then here we go again I'm in the same pain. I'm hurt. I'm trying to. I really do. But I know that I'm hurt and in pain but I can feel it but I don't know what it is. What do I really do? God, Help me ignore and rebuke what these demons are saying, in Jesus Name. Amen."
The post came shortly after Bobbi Kristina slammed Angela Bassett for not thinking of her for the lead role in Houston's biopic. "Ha MsAng 'bassketcase' has such a damn nerve my lord, at least the world doesn't mistake me for the wrong sex…she has some #XtraEquipment," she tweeted.
"When I win my first Grammy or Oscar, *Shrugs* hmm whichever comes 1st, I'll be sure 2shout URname out b-tch! Hah UrTestResults = Male. Lmao."
Yikes!