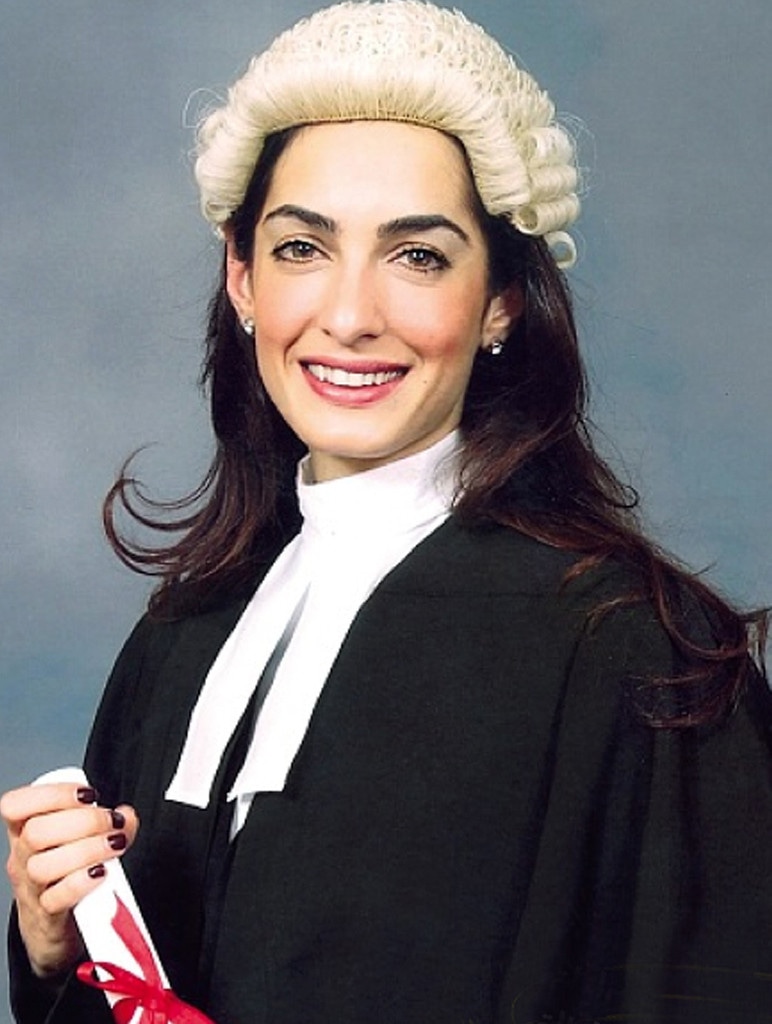 Balkis Press/ABACAUSA.COM
Well, this is certainly a side of Amal Alamuddin that we've never seen before.
The 36-year-old beauty, who is currently engaged to George Clooney, is making waves on the Internet today after her law school graduation pic surfaced online in which she's totally wigging out.
Dressed in traditional barrister wear for the occasion, the soon-to-be wife of the Hollywood hunk sports a wig as she smiles from ear-to-ear in the flashback shot. Despite the unflattering headwear, Alamuddin's beauty is undeniable as she proudly holds her diploma with her perfectly manicured nails.
The London-based lawyer, who specializes in international law, human rights, extradition and criminal law, graduated with a Bachelor of Arts in Jurisprudence from Oxford in 2000 before she began her illustrious legal career.
Fourteen years later, the Lebanese-born stunner, who undoubtedly has both beauty and brains, is now one of most respected barristers in the U.K. and currently works at Doughty Street Chambers in London. 
Alamuddin became the envy of women all over the world after she managed to win the heart of the notorious bachelor, who popped the question in late April after a whirlwind seven-month courtship.
She and Clooney are currently in the midst of planning what will undoubtedly be a star-studded wedding, and late last month, they were spotted scouting locations for their upcoming nuptials in Italy.
While it's unclear if the two will wed at George's famous Villa Oleandro, the bride-to-be already got some practice ahead of her "I do's" when she officiated a wedding on Thursday at Villa Mangiacane, a lavish Tuscan winery and spa in the Chianti area of the region. Per Il Gazzettino del Chianti, a local news outlet, Clooney was Alamuddin's date for the occasion, and unsurprisingly, the Oscar winner was reportedly "affable, educated and nice with everyone."
A source tells E! News that Alamuddin is a friend of the couple's and that guests at the ceremony came from all over the world.
Here's hoping she left her graduation wig at home (we presume the answer is yes).