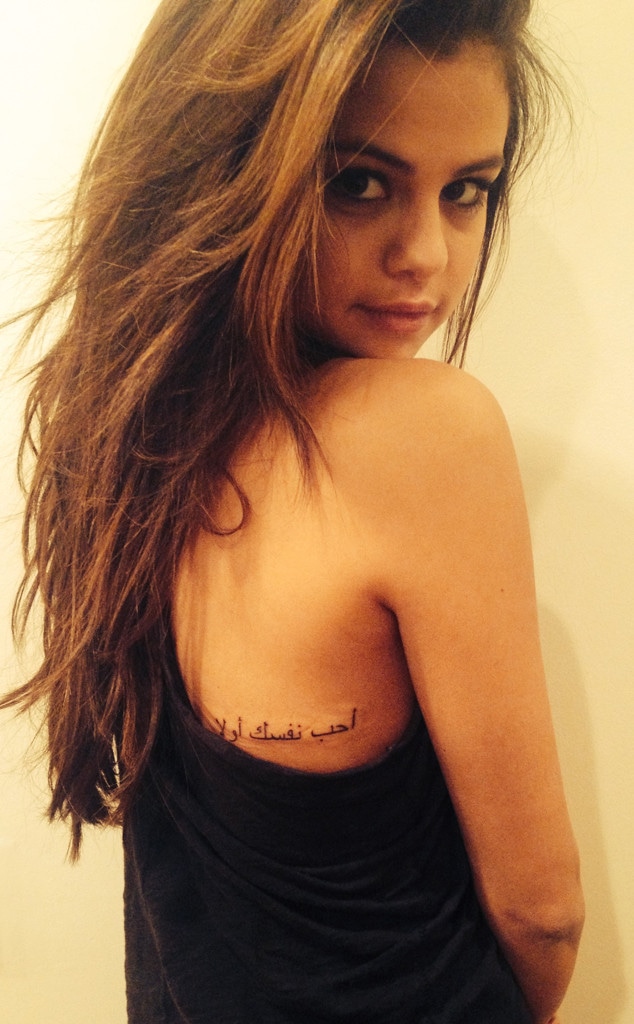 Bang Bang
Amid her cryptic posts and inspirational Instagrams, Selena Gomez opted to get some fresh new ink—with a very important meaning.
E! News has learned that the 21-year-old pop star is sporting a new tattoo, courtesy of celebrity tattoo artist Bang Bang McCurdy, who dished exclusively to E! News on the beauty's new body art.
Bang Bang reveals that the "Come and Get It" singer got her tattoo, which is located on the upper right side of her back, "about a month ago," adding that "she had been wanting this one for a while."
As for the significance of her new tat?
"Its meaning translates to 'Love Yourself,'" Bang Bang shares about the script, which appears to be an Arabic translation of the phrase "Love Yourself First."
The celebrity tattoo artist inked the singer in NYC after she came in "with a couple of friends."
"Selena already had it written out how she wanted," he says. "The tattoo is about 4 inches, and didn't take too long, probably about 30-45 minutes. The longest part is laying it out. We played with it a bit laying it out, until we found the perfect spot."
So is Gomez pleased with her brand-new body art?
"She loved it; she flipped out!" Bang Bang happily reveals.
This isn't the Spring Breakers star's first tattoo. According to Bang Bang, Gomez "has about 5-6 tattoos now" adding that he has tattooed the hitmaker about three times.
As for whether there's another tat in the works?
"When we did that one, she was talking about another one," Bang Bang says. "But we haven't talked plans just yet. There are always plans to do another one."
Bang Bang, who has tattooed the likes of Cara Delevingne, Rita Ora and Rihanna, is also famous for inking Justin Bieber; surprisingly enough, Gomez actually introduced the two.
During one of her past inking sessions, the former Disney darling told Bang Bang "you're going to tattoo my boyfriend"—and, well, the rest is history.
Gomez later shared a pic of the tat on her Instagram page and captioned the pic, "Art by @bangbangnyc --from my first to my last. It's always this fool."
What do you think of Selena's new ink? Tell us in the comments!