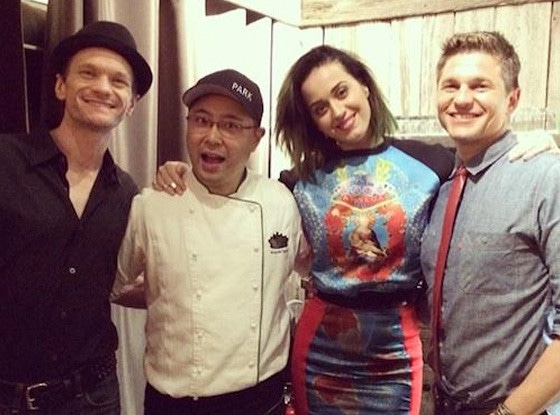 Twitter
Well, this is an interesting way to spice up your average sushi meal.
Katy Perry took to Twitter on Monday to reveal that she feasted on "acupuncture-treated fish" while dining with couple Neil Patrick Harris and David Burtka at Park Restaurant in Montreal, Canada.
Chef Antonio Park, who prepared the tasty meal for the trio, shared a photo with his celebrity guests on Instagram, clearly elated by the A-list company.
"What a day!!!! I would like to thank my friend @instagranph & @davidburtka for coming together with @katyperry! It was an honour and pleasure to cook for you guys! #restaurantpark #parkrestaurant #fortheloveofthegame #famous #hollywood," the sushi master captioned the cute pic.
Perry, who was dressed in a fitted silk gown with a colorful Las Vegas-inspired pattern, was obviously impressed with the dinner and didn't hesitate to brag about her mouth-watering meal on social media.
"Had the best sushi/wagyu from @ChefAntonioPark. The wagyu was flown in this morning from JPN & the fish had previously had acupuncture #fancy," she wrote before adding, "Also foodie kings @ActuallyNPH & @Davidburtka brought me here so durh."
While acupuncture-treated fish may seem like an odd delicacy, the practice is actually more common than you may think, as it allows the freshest fish to be transported directly from Japan.
The technique is further detailed on the restaurant's website, which explains how  "fishermen insert needles so that the trauma of death is avoided, allowing the cut to remain exceptionally tender."
And apparently, Perry felt inspired by the acupuncture-treated fish, as she opted to test out the practice, which involves the insertion of extremely thin needles throughout one's skin to target specific points on the body.
"Getting ready for you Montreal!" the 29-year-old pop star captioned her latest Instagram pic, in which she's lying face down, mid-treatment.
Perry, who is currently in the midst of her Prismatic World Tour, is scheduled to perform at the Bell Centre in Montreal tonight before she takes the stage in Ottawa tomorrow.