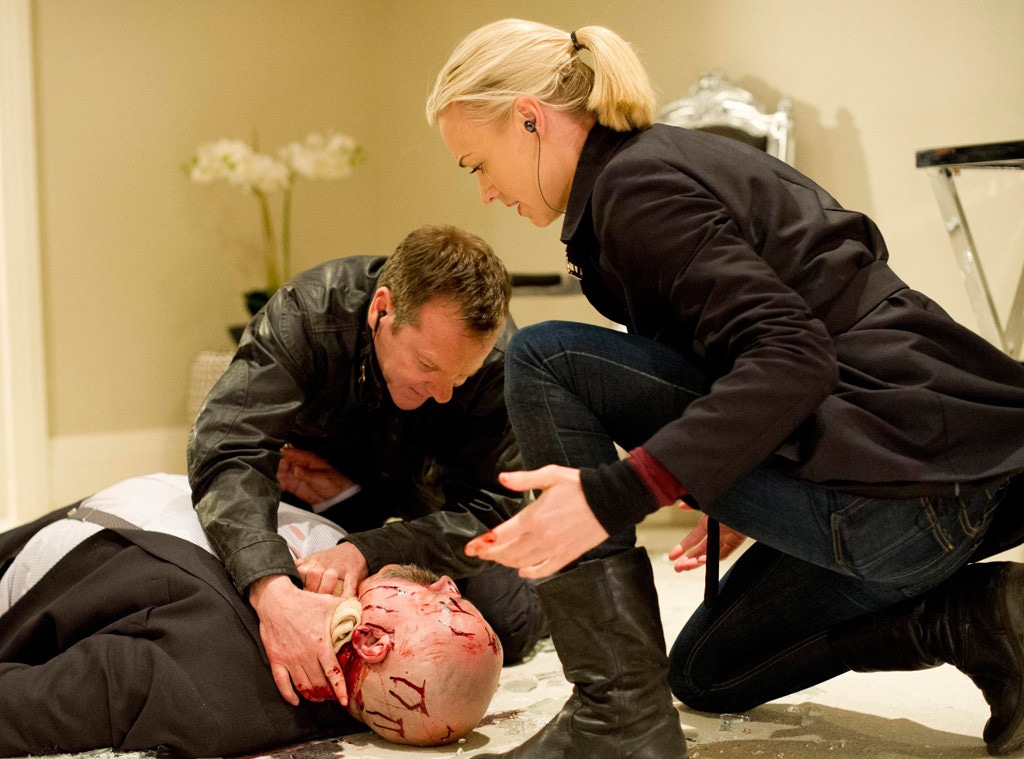 Chris Raphael/FOX
It's over…again, and of course, they couldn't let Jack Bauer go without breaking his heart and his spirit a little in the 24: Live Another Day finale. 
With the imminent threat of war with China and a sniper aimed at Audrey, Jack was given orders to go after Cheng, instead of focusing his efforts on saving Audrey.
Sidestepping the orders a bit, Jack sent Kate to Audrey while he went in stealth mode to the docks where Cheng was held up, with satellite-feed help from Chloe.
Kate was successful, at first. She managed to take out the sniper and get away with Audrey, until another shooter showed up, firing bullets into the small security detail, managing to hit Audrey anyway. There was nothing Kate could do, and Audrey died in front of her.
After a tearful phone call from Kate, Jack momentarily paused his assault at the docks, but he only had a few seconds to grieve before having to jump into action again. Bullets flew, along with fists as Jack finally caught up with Chang and engaged in some old-fashioned fist fighting. The POTUS ordered weapons to be fired on any Chinese vessels, but just in time, Jack showed up on the screen, with Cheng in custody.
As soon as it was confirmed that it was indeed Cheng, Jack turned off the camera and sliced off Cheng's head.
Right after finally making a deal with the Chinese president to call off the threat of war, the POTUS learned of his daughter's death, and collapsed in shock. 
Meanwhile, Jack tried to track down Chloe, discovering an overturned chair and drops of blood. He then got a phone call, arranging a mysterious meet with an unheard person.
At Audrey's funeral, the POTUS watched as his daughter's coffin was prepared to be taken back to the U.S., and lamented that soon, due to his Alzheimers, he wouldn't even remember that he had a daughter. (So. Many. Tears.)
Later, Jack arrived at the mysterious meeting: a prisoner exchange with the Russians. While Chloe was let go, Jack got into a helicopter bound for Moscow. So everything is sad, and all we can do is wait to see if there's more 24 to be had (sorry for rhyming). 
So what did you think? Are you pleased with the way that this "event" season ended? Do you immediately want more? Let us know in the comments!