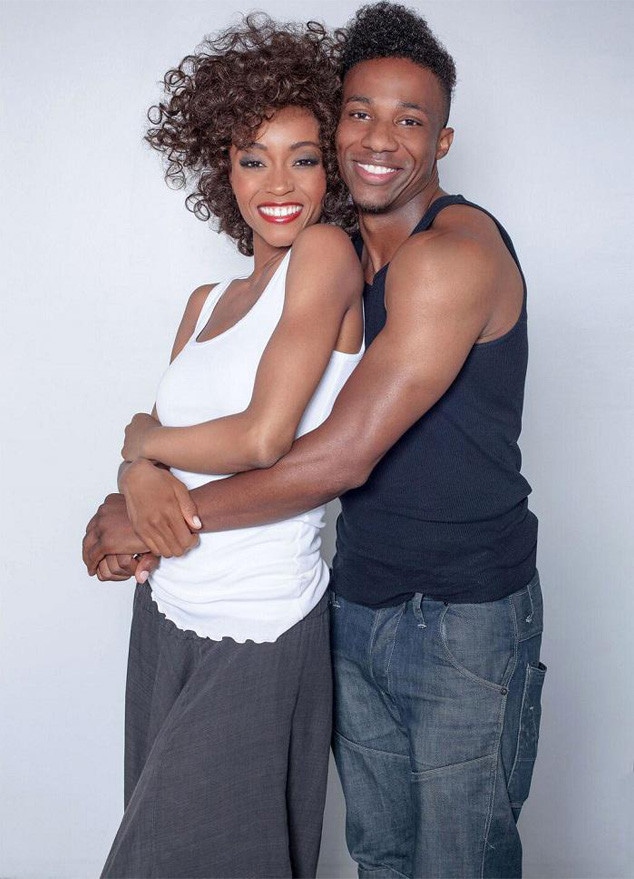 Jack Zeman/Lifetime 2014
Yaya DaCosta is portraying Whitney Houston in the upcoming Lifetime movie about her life, and she certainly looks the part!
With curly hair, blue eyeshadow and bright red lips, the 31-year-old actress and America's Next Top Model alum perfectly channels the singer's 1997 Whitney album cover look. She also looks right at ease cradled in the arms of Arlen Escarpeta, the 33-year-old actor playing Bobby Brown on the small screen.
Angela Bassett, who co-starred with Houston in 1995's Waiting to Exhale, is directing the film, but the late singer-actress's family is not involved in its production. "We reached out to them in the early days; of course we're not going to do the movie and not say anything to them," Bassett told CNN.
"You can if you're using public domain, but that's not our desire," she said. "We paid our respects and let the conversation be had, just to get their okay. They certainly could have been not involved and against it."
Houston's 21-year-old daughter Bobbi Kristina Brown is not exactly pleased with the movie being made—largely, in part, thanks to Bassett telling Entertainment Weekly she never considered casting her "for a number of reasons."
"One being that she's not an actress. I know she's acted here and there. I know she's been on their family's reality show, but she's not an actress and acting is a craft," she explained. "It's an attempt to illuminate the complexities of human behavior and life. And this is a very fast-paced schedule; we have just 21 days to tell this story. It's more than just saying lines and turning the light on. You have to drive the story—there's a technical aspect."
Bassett—along with the rest of the movie's cast and crew—aren't trying to rehash the most troubled times of the late star's life and career, but they can't entirely gloss over them, either. "Well, we know that drugs were a part of their story and that's certainly an element of their story. We can't tell their story without that," she told CNN. "It's involved, and I hope we can unpack it gently."
"I really just want to tell a story about a boy and a girl who fell in love," she explained. "And these are the words and this is the place, and these are are the people on the outside, you know? And I want to be as honest as I can about about doing that."