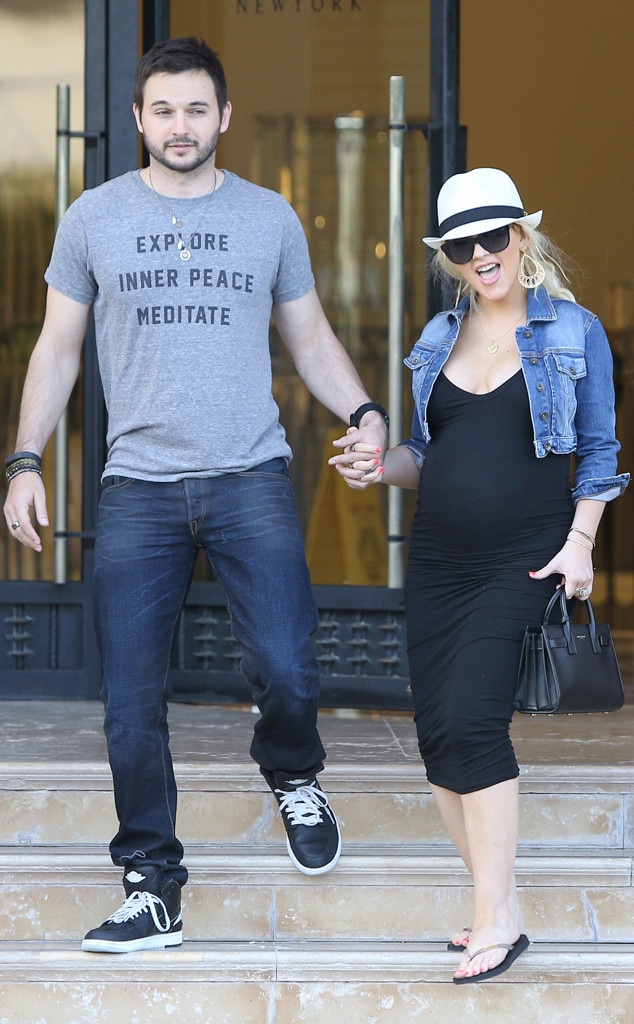 AKM-GSI
In this case, the icing on the proverbial cake was the literal cake.
Christina Aguilera, who is pregnant with her second child, and fiancé Matthew Rutler celebrated their daughter's imminent arrival on Saturday with a co-ed baby shower held at the home of the singer's stylist.
Only about 50 family members and close friends attended the intimate gathering, which was humorously punctuated with a cake decorated with a figure of a woman giving birth on a rug atop a hardwood floor, the baby's head (complete with a full head of hair) poking out from whence it came.
And yes, it was as awesome as it sounds.
"Push Xtina, push," the writing on the cake encouraged.
A source tells E! News that the adults-only gathering lasted well past midnight, and the expectant guest of honor—who wore a garland of flowers in her hair and looked radiant in a flowing white dress—"wasn't tired at all."
Lots of flowers, candles and tea lights made for a fun, festive setting. Partygoers feasted on breaded chicken, veggie burgers, sliders, fresh salads, tomatoes and burrata and mini grilled cheese sandwiches. Cocktails and mocktails were served, all boasting cute occasion-apropos names such as Baby Bellini, Mommy Moonshine from Ole Smoky, It's Almost Time and Pink Cheek.
The group played both traditional shower games—and a few "racy games" as well.
"Christina is doing great," our source said. "She's really glowing. She's feeling great and isn't tired at all. She can't wait to meet her baby girl."
The Grammy winner is also mommy to 6-year-old son Max with ex-husband Jordan Bratman. Aguilera revealed on Valentine's Day that Rutler had popped the question, and a week later E! News confirmed that they were expecting their first child together.