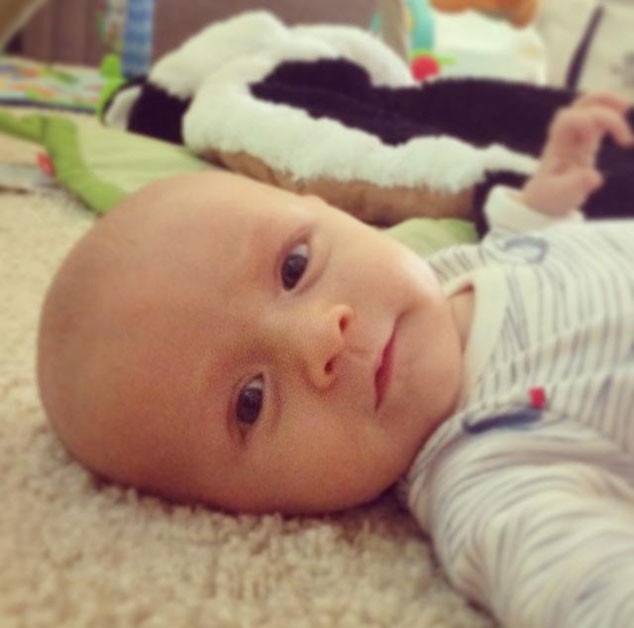 Kristin Cavallari
Kristin Cavallari's new baby boy Jaxon Wyatt is too cute for words!
Two months after giving birth to her and Jay Cutler's second child together, the 27-year-old star took to her own Kristin Cavallari app to debut the first photo of her 2-month-old son.
Along with the precious pic of little Jax was a special message to fans. "The end of June through the end of July is my favorite time of the year, because Jay isn't working and we use those 4 weeks to relax and spend as much time together as possible before he takes off for training camp and the football season begins," the mother of two wrote.
Courtesy Kristin Cavallari
She added, "This year we took Camden to the zoo for the first time, I cooked up a storm, we had family in and out, and most importantly we adjusted to now being a family of 4 with baby Jax. Speaking of Jax, here is my precious little peanut..."
Adorable!
Cavallari and Cutler welcomed little Jaxon back in May. And just last week, Cavallari opened up to E! News about losing 20 pounds in just two months. "I started working out when Jax was three weeks old," she revealed. "I've been working out four to five times a week for 30 to 45 minutes at home, doing tons of leg work like squats, lunges and lifting weights. I want to start Pilates again to focus on my core. I'll probably get back into it in the next couple weeks."
She added, "I'm still a couple of pounds away from my pre-pregnancy weight, but it took a solid three months with Camden and I think it will be the same this time."