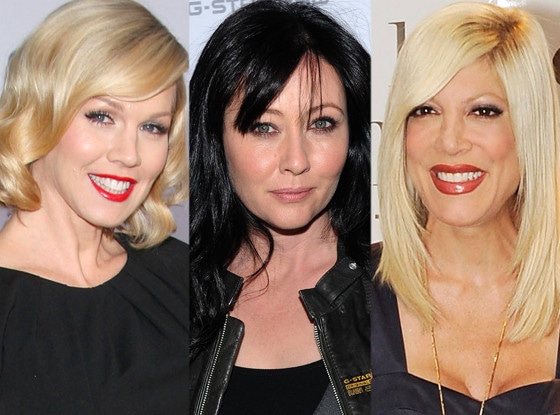 Jason Merritt/Getty Images; Dimitrios Kambouris/Wendell Teodoro/WireImage
Has Brenda been frozen out by Kelly and Donna once again?
Rumor has it that Shannen Doherty is persona non grata on the set of Mystery Girls, Jennie Garth and Tori Spelling's new ABC Family sitcom. But perhaps the real mystery is who started the rumor.
In response to a report that Doherty has been "banned" from the set, the network tells E! News, "There is absolutely no truth to that rumor. We are certainly open to having her on."
And any Beverly Hills, 90210 fan worth his or her salt would just love that!
While the issues between Doherty and some of her cast mates are the stuff of 90s-TV legend, they do seem to be water under the bridge now—despite Garth unearthing them in her recent memoir, Deep Thoughts From a Hollywood Blonde.
"It was more of just young girls finding their way and finding their individual voices," the erstwhile Kelly Taylor told E! News in March. "Shannen and I are both Aries women, we're both very strong, independent women, so we butt heads a lot. Now, as grown women, we happen to get along as well."
Sure enough, while out promoting Mystery Girls, she and Spelling were asked who they'd like to have guest star, and they named their former costar!
"We'd like to have Shannen," Garth said on Sirius XM's Just Jenny just a few weeks ago, and Spelling added, "The original threesome. Me, Jen and Shannen, so that's how it should be on this show."