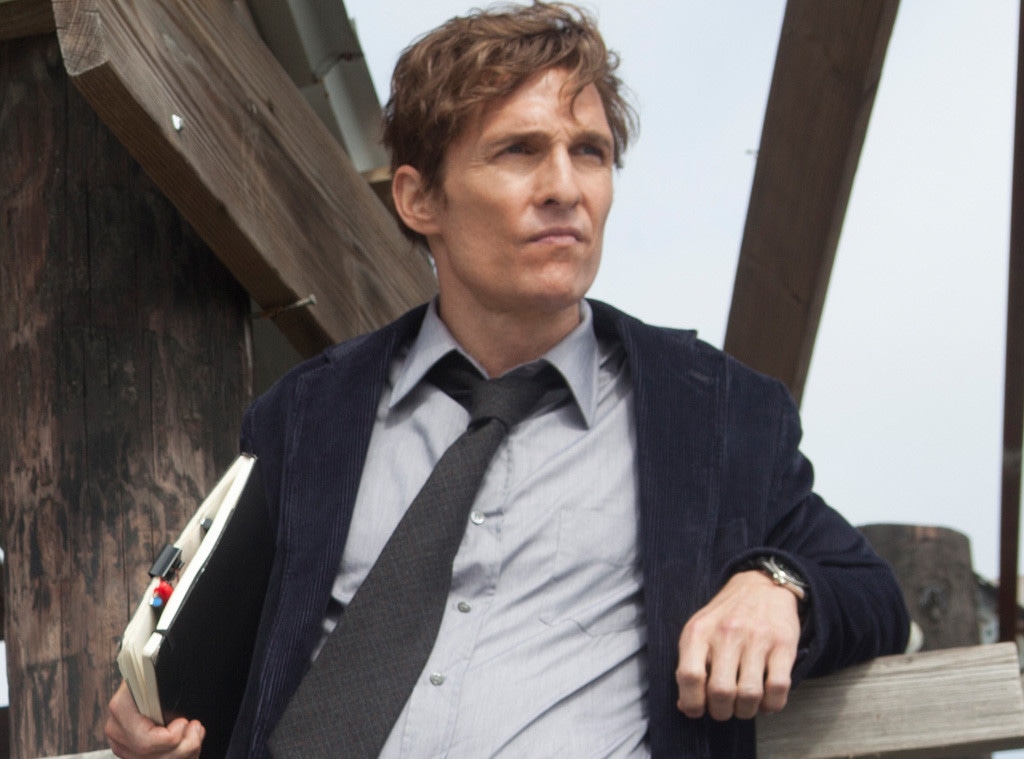 HBO
How does True Detective plan to top Matthew McConaughey and Woody Harrelson, who both earned Emmy nominations for their work on the drama? Easy: puppets!
After HBO dominated the 2014 Emmy nominations on Thursday, earning 99 noms, more than any other network, bosses Michael Lombardo and Richard Plepler took the stage at the 2014 Summer TCA Press Tour to field reporters' questions on Season 2, including all those casting rumors. 
Plus, the duo was more than happy to dish on Game of Thrones, the year's most-nominated series (19!), and when they see the fantasy hit coming to an end. (Never, if they can help it!)
True Detective: "We're going to do the next season with puppets," Lombardo joked of all the season two casting rumors. "They're being built right now." On a more serious note, Lombardo said fans can expect to hear some casting news within "the next week," and will most likely see some massive A-listers on the cast. But he stressed that wasn't the network's intention with the series.
"I think we decided to free ourselves early on from the idea of star…I think the truth of the matter is...talented, well-known actors, look for great writing" he said. "I think the people we cast will be well-known cast, but that wasn't our ambition. I think great writing attracts great actors."
And speaking of great writing, the first two scripts for the new season have been turned in by creator Nic Pizzolatto, and Lombardo gushed, "The two scripts we have are, I hate to jinx it, but are more exciting than the first season. He's blown us away with the first two episodes."
Game of Thrones: So are Lombardo and Plepler worried about George R.R. Martin's, um, rather slow writing pace, considering the series will most likely catch up to him before the fantasy series' sixth book hits shelves? Calling Martin an "integral" part of the series' creative team, Lombardo said, "After next year, we will have to figure it out with George...if his book's not finished at this point, we're not concerned." Plepler added that Martin works closely with executive producers David Benioff and D.B. Weiss, "So we're not losing any sleep over that at all."
While HBO renewed the drama for its fifth and sixth season, the bosses are in no way looking at Season 6 as the end of the War of the Seven Kingdoms. "We're not talking at this point about ending the show in the next two years," Lombardo assured.
And though there's been talks of the series ending with a movie, Lombardo shot down those rumors, bluntly saying, "There's no conversations going on about a movie."
The Leftovers: When asked about a potential renewal for the freshman drama, which comes from Lost's Damon Lindelof and stars Jennifer Aniston's beau Justin Theroux, Lombardo was coy, simply saying, "We're in conversations now and looking at the numbers and having conversations about what the future would look like."
The Comeback: While resurrections seem to be a trend in the TV world as of late (Arrested Development, Veronica Mars, etc.), Lombardo said the return of Lisa Kudrow's faux-reality cult hit was brought back for one simple reason: people missed it!
"Two men who work for me, came in and said, 'We'd love to see The Comeback.' They were both fans of the show, we started imagining it and we called Michael Patrick King and Lisa and...they came in for a meeting, it was so exciting, funny and it did just happen," he explained. "No strategy really, just started with a kernel of a creative idea. And Michael and Lisa, it was as if they were thinking about this for the last 10 years. We're very excited about it."