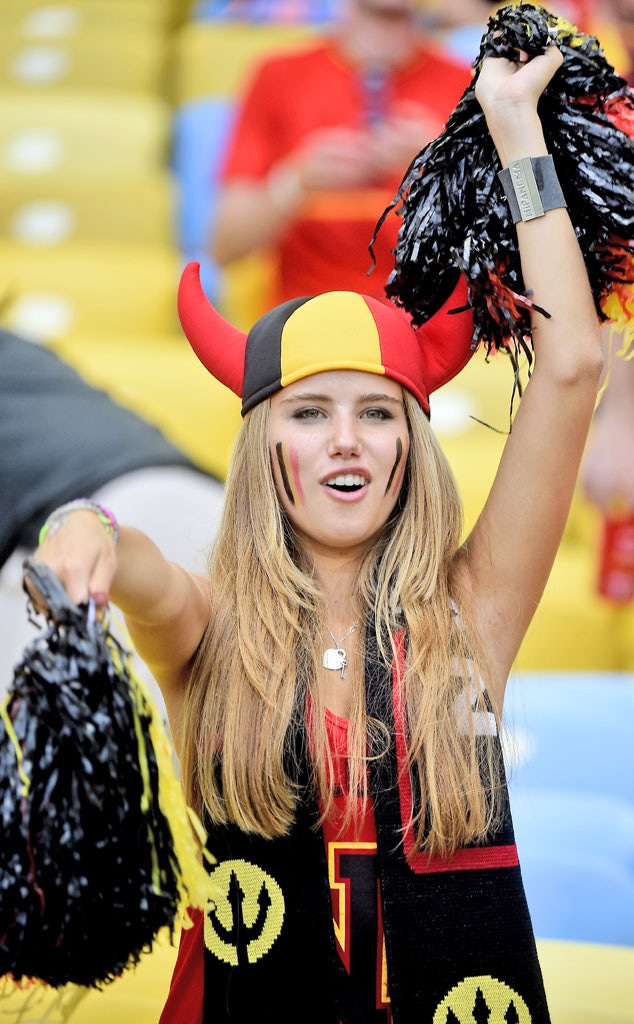 MARTIN BUREAU/AFP/Getty Images
Belgium may have lost to Argentina in the knockout round of the 2014 World Cup, but hey, at least their fans are super-hot. That counts for something, right?
Seventeen-year-old Axelle Despiegelaere was spotted in the crowd at the Belgium-Russia game on June 22, because camera guys love their game of "spot the hottie." The Internet definitely took notice of the beautiful teen all decked out in Belgium gear and cheering for her team. Turns out, it wasn't just the Internet who was into her.
Axelle announced on Tuesday on her Facebook (that has since been made private) that she has accepted a modeling gig with L'Oreal. Just by simply showing up at a soccer game. So aspiring models, maybe it's time to attend more sporting events. 
But how come no one notices when we're double fisting hot dogs and 17-dollar beers in the crowd while we're cheering on our favorite football team? Damn. Well, the NFL starts up real soon so we have a couple months to work on our "sexy fan" look. Does that look mean holding more or less hot dogs? More. Definitely more.
MARTIN BUREAU/AFP/Getty Images
L'Oreal Professional confirmed to ABC News that the Belgium beauty did work with them on a social media campaign, but she is not an official spokesperson.
And quicker than you can say a dirty joke about the fact that she's wearing a hat with horns in these photos, L'Oreal has already made a commercial with her that promotes their hair care products. And you can follow her on Twitter, too.
From cheering fan to model for an international brand in less than three weeks? Because those tickets for the plane ride and the World Cup matches were worth it. 
Follow all the excitement of the World Cup Russia 2018 on Telemundo Deportes: Copa Mundial de Fútbol Rusia 2018