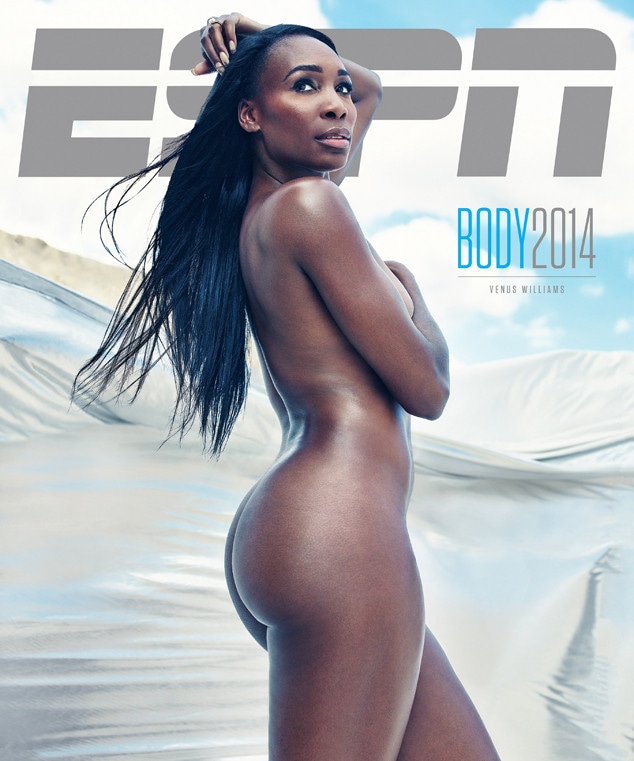 Williams+Hirakawa for ESPN The Magazine
It wasn't surprising to see that a naked photo shoot involving Venus Williams yielded impressive results—she follows a fitness regimen that would make most grown men weep.
But even though the tennis great is already the picture of grace and athleticism on a daily basis, posing nude for ESPN the Magazine's annual "Body Issue" still required some styling, of course.
And Angela Meadows, the Miami-based stylist and salon owner who worked with Venus, knew what she wanted to do to put together a grand-slam look.
"I wanted Venus's hair to be long and sexy to match her silhouette," Meadows exclusively tells E! News. "To achieve this look, I used Angela Meadows hair extensions and just a little product so the wind could blow through her hair to create a goddess look. The makeup artist, Natasha Gross, just used a little moisturizer on Venus' body that gave her amazing skin a beautiful glow."
Indeed, it was no-clothing-no-problem for the 34-year-old, whose strong physique and radiant skin were on full display—along with the impressive profile view of her kickass bottom.
Williams+Hirakawa for ESPN The Magazine
"Posing by the rock was the last shot of the day," Meadows said, talking about the pose that ultimately became the ESPN cover. "Despite how uncomfortable it was, Venus being such a pro, she nailed the shot after a couple frames."
"It was extremely hot and the sand got in our eyes," the stylist recalled, "but it didn't prevent us from getting the best shot. The sun gave us perfect lighting.
Meanwhile, it was all apparently in a day's work for the nine-time Grand Slam champion, who has won each of the four majors at least once.
"I can tell that this shoot was very easy for Venus because she's comfortable in her skin and she was really relaxed," Meadows said. "Also, the shoot was very minimal which made the process less stressful."
It was indeed minimal, especially in the wardrobe department! Michael Phelps, Amy Purdy and Tomas Berdych were among the athletes who also stripped for the 2014 issue.
Carlos Serrao for ESPN The Magazine
And comfort in one's own skin runs in the family for Venus.
Sister Serena Williams was on ESPN's Body Issue cover in 2009, begging the question of what it might be like to work with one versus the other.
"There was no sibling rivalry at all," Meadows said. "Actually, Serena called Venus during the shoot to offer encouraging words that showed her support. I love shooting with both Serena and Venus because they each have beautiful hair with amazing texture. They make my job easy!"
We bet the photographer said the exact same thing.