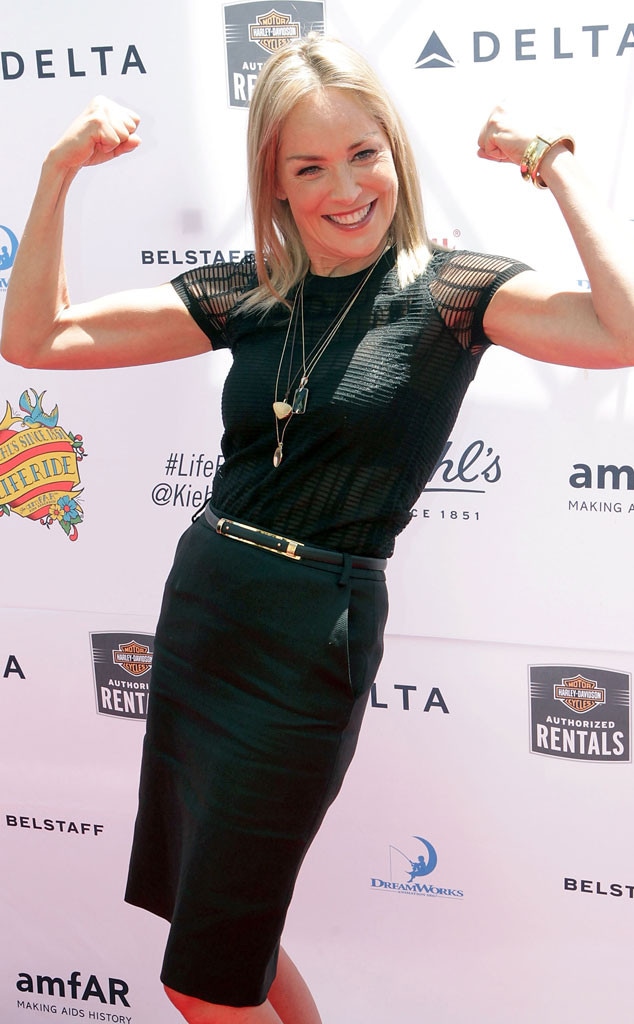 Courtesy: Todd Oren/WireImage
Sharon Stone has a good reason to clean out her closet.
The Oscar nominee is auctioning off some of her fabulous fashions at Sharity.com to benefit Yala, a Facebook-based initiative for youth that promotes peace in the Middle East and North Africa.
"The kids are really standing up for peace and they're communicating with each other," Stone tells me. "They're erasing that sense of fear that comes from not knowing."
Here, Sharon talks about five of the auction's most eye-popping pieces...
1. Basic Black: She wore this black Roberto Cavalli coat in 2006's Basic Instinct 2. "That thing is so gorgeous, I can't even stand it," Sharon says. "It was already a vintage jacket when our costume designer found it. The belt is perfect."
Dominique Charriau/Getty Images
2. Gown of a Lifetime: When Martin Scorsese presented his Casino star with the Lifetime Achievement Award at the Marrakech International Film Festival in December, Sharon knew this black Cavalli number was the perfect fit. "I was going to be in a Muslim country, so I had to be beautiful and sexy, but not too sexy," she said. "But I also knew I had to come in with the verve of the character I played for Marty."
3. Red-Hot: Sharon has never actually worn this one-of-kind Roberto Cavalli Atelier gown! "I thought I needed to give this up because I needed to put a couple of things in the auction that are so couture and so amazing," she said. "We all know what a dress like that could cost. They are tens of thousands of dollars and they're so rare."
4. Boat Slip: Sharon first wore the white satin Cavalli dress on the designer's legendary yacht. "But I can say I wore it at my house a million times," she said, adding, "I have two more of them. I just couldn't let go of all of them. I love throwing one on because it's super-glamorous but it's like a great big bag. You can throw it on with some jewelry and run around in bare feet."
5. Hands-Free: This copper Fendi cocktail dress makes party going so much easier. "It has pockets!" Sharon said. "You don't have to carry a purse. The pockets are in the big part of the dress so you can put your cellphone in one pocket and your lipstick in another and hit the road."
How does the 56-year-old mom of three keep her body in such stunningly good shape to fit in all those dresses? Make sure to come back to E! Online later on to find out.