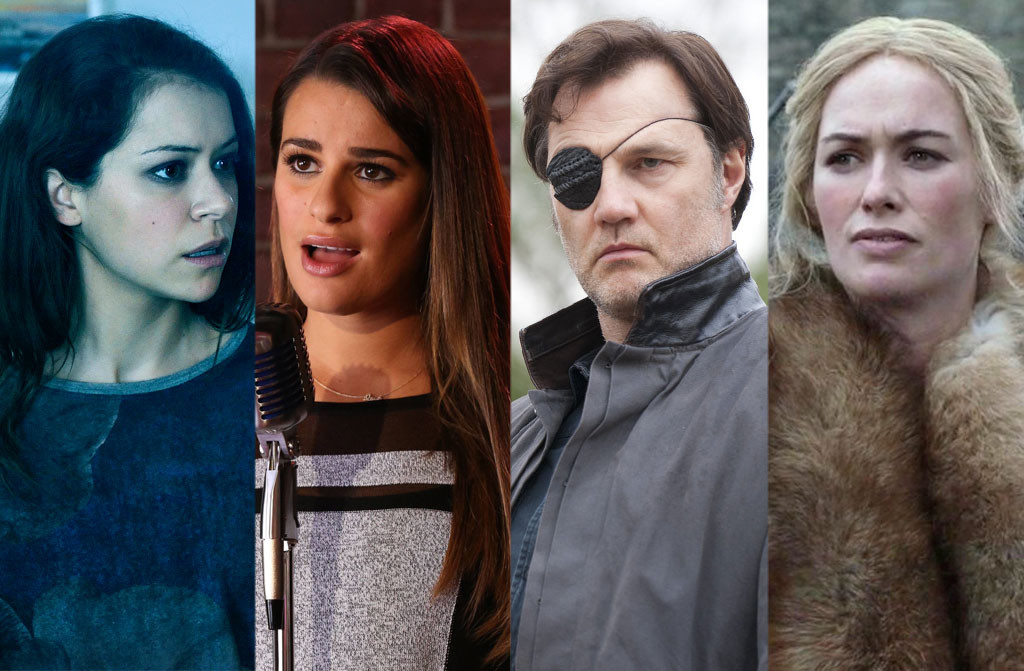 The Emmy nominations are happening tomorrow morning. But we kind of dont care! Because the diehard TV fans have already spoken, right here. And trust us when we say: NO ONE CARES MORE THAN THEY DO.
It's time to announce the winners of E!'s 2014 Best. Ever. TV Awards!
This year, the response was massive—and intense—as our 32 categories received more than 5 million votes, from inside the U.S. and around the world.
HERE ARE YOUR WINNERS....
Best Drama:  Orphan Black
Best Comedy: The Big Bang Theory
Best Binge-Watch Show: Orphan Black

Best Actor in a Comedy: Chris Colfer, Glee
Best Actress in a Comedy: Lea Michele, Glee
Best Actor in a Drama: Jensen Ackles, Supernatural
Best Actress in Drama: Tatiana Maslany, Orphan Black
Best Fight: Benson vs. William Lewis, Law & Order: SVU
Best Kiss: Damon and Elena's goodbye kiss, The Vampire Diaries
Oddest Couple: Artie and Kitty, Glee
Best Fandom: Orphan Black
Best Cast on Twitter: Supernatural

Love Triangle You're So Over: Damon, Elena and Stefan, The Vampire Diaries
Biggest Tearjerker: Damon and Elena's goodbye, The Vampire Diaries
Most Heartbreaking Goodbye: Finn Hudson, Glee
Best Shocker: Dean turns into a demon, Supernatural
Moment That Made You Want to Throw Out Your TV: Damon's death, The Vampire Diaries
New Fall Show You're Most Excited About: Outlander
Best Guilty Pleasure: The Vampire Diaries
Show You Can't Believe Is Still on the Air: Bachelor franchise
Breakout Star: Tom Mison, Sleepy Hollow
Breakout Star: Nicole Beharie, Sleepy Hollow
Most Underrated Show: Hannibal
Best Reality Show:  Real Housewives
Best Reality Star: NeNe Leakes, The Real Housewives of Atlanta
Best Guest Star: Osric Chau, Supernatural
Best New Show: Reign
Sexiest Moment: Klaus and Caroline's hookup, The Vampire Diaries
Most Heartbreaking Cancellation: Enlisted
Best Villain: The Governor, Walking Dead
Best Bitch: Cersei Lannister, Game of Thrones
Show You'll Miss the Most: How I Met Your Mother
Star You'll Miss the Most: Sandra Oh, Grey's Anatomy
Congrats to all the winners!
Now, one very important thing to clear up here, to all of you who voted for Best Couple.
We honestly had NO IDEA the votes were so close when we decided to extend the voting for a couple more days. (Not proud. Just being honest.) Originally, the deadline for voting was Sunday, but we extended it through 5 p.m. today. At the time of the original deadline, Kurt and Blaine were winning Best Couple. At the close of the poll tonight, Damon and Elena were winning. The voting extension rightfully upset many Kurt and Blaine fans, and for that we are truly, truly sorry.
To that end, we would like to give out two awards in the Best Couple category, to both Glee's Kurt and Blaine, and The Vampire Diaries' Damon and Elena. We know this isn't preschool. And not everyone should win. But honestly, in this case, beause of our own stupid decision to extend the voting with insufficient prior warning, the only right thing to do is to make sure that no one goes home a loser. (Well, except us.)
Now, something cool we also want to share: Our tech gurus informed us earlier today that they noticed a significant spike in our overall E! Online traffic coming in from Facebook in Russia, thanks to Russian users who were pushing voting for Kurt and Blaine in the TV Awards. That is pretty much the raddest thing we ever could have imagined happening with these polls. We get that many of you (inside or outside of Russia) were voting for Kurt and Blaine because you wanted to promote equality and make sure that a gay couple could be recognized as TV's Best Couple. And we applaud you. We also made sure that Chris Colfer, Darren Criss and producers Ryan Murphy and Brad Falchuk know all about it.
We also have reached out to the executive producers of both shows, Glee and TVD, to make sure they know how completely dedicated you all are as fans, and here's the message they have for you!
Julie Plec, executive producer, The Vampire Diaries
"Once again, our fandom has rallied to show their love for TVD and our gratitude grows along with their never-ending passion. Tune in in October to solve the mystery of where's Damon? Will he find his way back to Elena? And more importantly, if he and Bonnie aren't dead, will they survive their time together without killing each other out of mutual aggravation and annoyance?"
Brad Falchuk, executive producer, Glee
"Thanks to all of our fans who voted Lea and Chris best actress and actor in E!'s Best Ever TV Awards.  Your devotion to them and the show is really appreciated and obviously we agree that those two are all kinds of awesome.  My understanding is that there were a lot of votes coming in from Russia for Kurt and Blaine as best couple.  How cool is that?  Nice to see that the people have a different view from their government when it comes to certain undeniable issues."
Thank you for taking part.