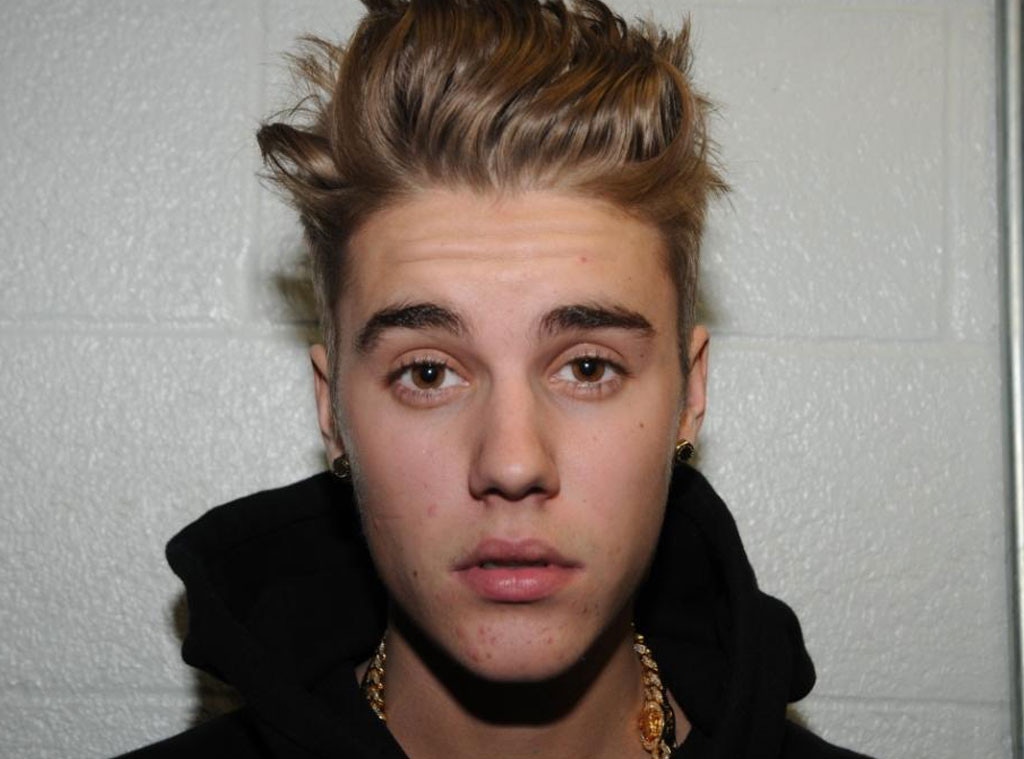 Miami Beach Police Department
Justin Bieber has copped a deal in Egg-gate. 
E! News has learned that the singer pleaded no contest to one count of misdemeanor vandalism for throwing eggs at his neighbor's Calabasas, Calif. home in January. He has been placed on probation for two years and has been ordered to perform community service. Additionally, he has been ordered to pay $80,000 in restitution for the damages done to his neighbor's home.
Bieber's rep says in a statement, "Justin is glad to get this matter resolved and behind him. He will continue to move forward focusing on his career and his music."
Earlier today, the Los Angeles District Attorney's Office released a statement announcing the vandalism charge being brought against the pop star.
The hitmaker was not required to be present in court for his arraignment, which took place at 1:30 p.m. on Wednesday at the Los Angeles County Superior Court in Van Nuys.
Just after the New Year, the 20-year-old pop star's neighbor claimed that the singer threw eggs at his residence, telling E! News that he and his daughter were "attacked" by "at least" 20 eggs.
The Los Angeles Sheriff's Department confirmed to E! News that they received a call on Friday, Jan. 10, from Bieber's neighbor—the alleged victim—who claimed that the superstar egged his home the evening before.
Following the alleged victim's complaint, police raided Justin Bieber's Calabasas home on Jan. 14 after they obtained a search warrant for his residence in order to look for any evidence linking the Biebs (or his friends) to the egg-throwing incident.
The "Beauty and a Beat" artist's cell phone and other items were confiscated, but Bieber was not arrested. The only person in the house who got busted at the time was his pal Lil Za, who has since been charged with felony possession of Ecstasy and Oxycontin, as well as damaging jail property for allegedly ripping a phone off the wall before he was to be released on bail.
The Los Angeles County Sheriff's Department wrapped up its investigation into Egg-gate in early February and turned over their findings to the Los Angeles District Attorney's Office, with the recommendation that vandalism charges are pressed against the pop star.
"We did a search warrant and put a lot of work into it. Of course it's up to them...I want a felony filing," Sheriff's Lt. Dave Thompson previously told E! News. "The kid needs to realize he can't do this."
Thompson concluded, "Certainly we don't want [the D.A.] to reject it. We believe with the dollar amount and the evidence it deserves a felony filing."
As for why it took so long to prosecute the Biebs?
"The reason is because this case is very political," criminal attorney Troy Slaten, who is not connected with Justin's case, tells E! News. "This is very high profile. This probably went all the way to the elected DA (Jackie Lacey)'s desk. This sort of thing affects the entire office. It will be heavily scrutinized and they want to make sure that it doesn't appear that they are treating him any different than anyone that is exactly similarly situated."
He added: "I could consider a misdemeanor charge to be very, very good, because the filing deputy who took the case from the Sheriff's Department went on the record saying they wanted a felony charge. It's clear that in the eyes of the law and the DA that Justin is chipping away at his nine lives."
While the Sheriff's Department will have to settle for a misdemeanor charge, Bieber's legal woes are hardly behind him.
Just over a week after Egg-gate, Bieber was arrested on suspicion of driving under the influence, resisting arrest and driving with an expired license in Miami. An attorney later pleaded not guilty to the charges on Bieber's behalf. 
Meanwhile, Bieber was most recently spotted at the wedding of manager Scooter Braun and Yael Cohen, where he performed for the crowd and even sang the hit "Call Me Maybe" with pal Carly Rae Jepsen.
—Reporting by Baker Machado and Lindsay Good