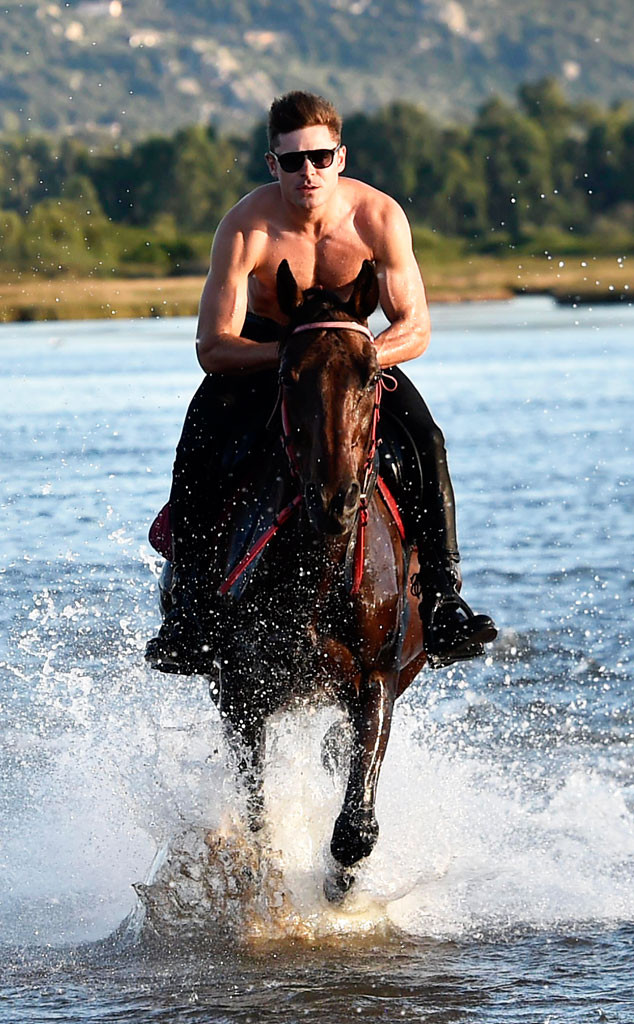 Ciao Pix/ FrezzaLaFata/AKM-GSI
Now that their secret is out, Zac Efron and Michelle Rodriguez are on a PDA parade!
Like a cheesy scene out of The Bachelor, the 26-year-old Neighbors actor and the 35-year-old Avatar actress spent Monday afternoon riding horses on the beach in Sardinia. Efron went shirtless for the occasion, and to his new girlfriend's delight, the actor flexed his bulging biceps as he gripped the reins.
The surprising new couple's friend and host Gianluca Vacchi, a manufacturing entrepreneur and self-proclaimed "public personality," joined Efron and Rodriguez for the picturesque trot around the lake.
At one point, Efron wrapped his arm around Rodriguez's waist as the darling duo looked at photos the actress had taken with her digital camera. Rodriguez was also photographed puffing on an e-cigarette.
Rodriguez shared a picture of herself riding a horse via Instagram Monday, writing, "'Le Petit Mort' leaving Italy is always hard for me... I love this place @gianlucavacchi thanks for the adventure Gian."