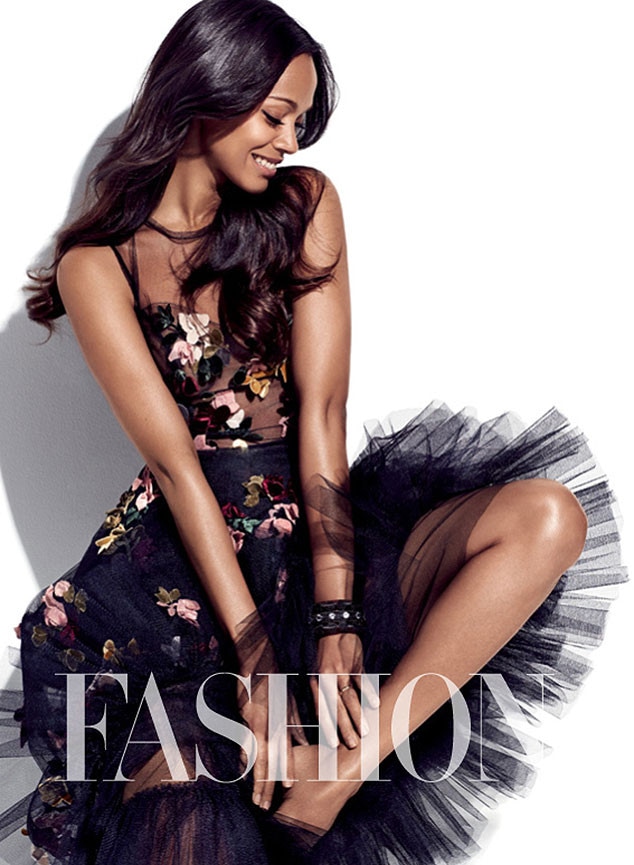 CHRIS NICHOLLS
Zoë Saldana doesn't discuss pregnancy rumors in Fashion's August 2014 issue, but she does reveal why she married Marco Perego just months after she broke up with on-and-off boyfriend Bradley Cooper.
Saldana and Cooper, who began dating while shooting The Words, broke up before New Year's Eve in 2012. "I was finally able to spend time without being in a relationship, and even though it was a short period of time, it was beautiful. I lost that fear of being alone," Saldana tells the magazine. "It was bliss."
The single stunner was seen smooching Perego at a Star Trek Into Darkness afterparty in May. It didn't take long for the pair to realize that they were meant to be. "I met my partner when I was in really a beautiful place in my life," Saldana, 36, says of her artist husband, whom she secretly wed later that summer. "It was like I found all my answers with him not in him. I was finding my answers on my own."
What makes her romance with Perego different than past loves? "When you are desired and you desire, so many things in your life start to make sense," the Guardians of the Galaxy star says. "We both feel we are artists in our core. One moment you're up; the next moment you're down. It all depends. You can sell a collection; you might not sell the next collection. It's like an actor–you get cast or you don't."
Saldana knows success comes in waves, which is something her hubby understands, too.
"I was a ferocious dancer so therefore I was a ferocious up-and-coming actress," she says. "When it comes to auditions, I'm not competitive with anybody. I don't even know who's sitting next to me. I wouldn't even tell you if it was a blond or brunette. The moment you compare yourself, it weakens you."