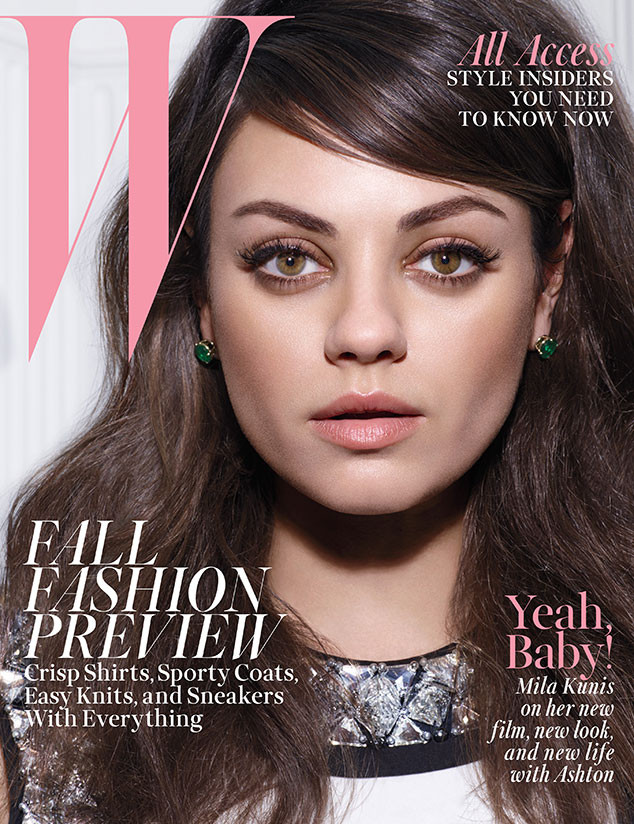 Michael Thompson/W Magazine
Mila Kunis and Ashton Kutcher have shared many firsts over the years, and they'll soon share another when the actress gives birth later this year. In W's August 2014 issue, Kunis speaks candidly about how their friendship turned into a romance after co-starring on the Fox comedy That '70s Show from 1998-2006.
"My first real kiss ever was with him on the show," she says. "And when That '70s Show had a prom, my date for the prom turned out to be my fiancé. We can honestly say that we went to prom together!" She jokes, "I do think that in that episode I went home with someone else. We don't talk about that part."
Kunis looks at her time on That '70s Show fondly—and not just because it gave the actress her first big break. "Not only did it introduce me to my fiancé," she tells the magazine, "but I'm so grateful that all my mistakes are recorded for posterity...I went through everything embarrassing that a girl can go through in front of my fiancé. There's no question that he's seen the worst. I find that comforting."
Though Kutcher has been married before, Kunis is excited to wed for the first time. "I never wanted to get married. From the age of 12, I prepared my parents for no marriage," the pregnant movie star says. She adds, "Then things changed—I found the love of my life. Now my theory on weddings is: Don't invite anyone. Do it privately and secretly. My parents are okay with that. They're just excited that I said yes."
"We all get movie star crushes," she adds. "I'm marrying mine."