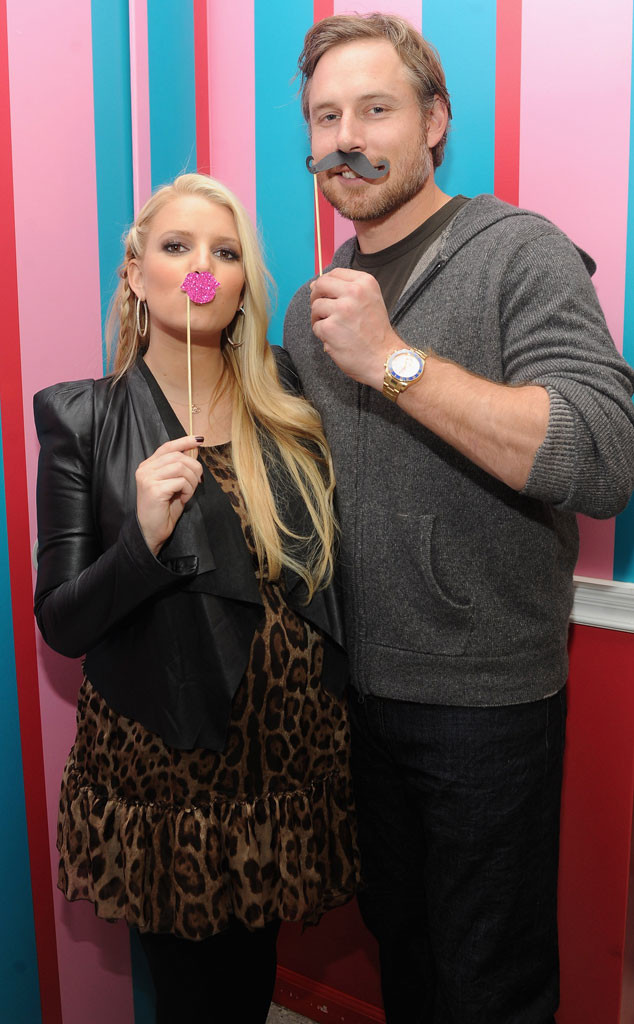 Jamie McCarthy/Getty Images
Jessica Simpson was a blushing bride—literally!—when she flubbed her marital vows.
Sources tell E! News that Jessica's father, Joe Simpson, officiated her wedding to Eric Johnson July 5. The 33-year-old bride walked down the aisle at the San Ysidro Ranch in Santa Barbara, Calif., wearing a custom Carolina Herrera gown. She and Johnson exchanged vows in front of more than 250 attendees, including celebrities Jessica Alba, CaCee Cobb, Donald Faison, Topher Grace, Evan Ross, Ashlee Simpson and Cash Warren. Guests traveled from states like Illinois, Massachusetts, New York and Texas.
The couple's 1-year-old son, Ace, served as a ring bearer and their 2-year-old daughter, Maxwell, 2, walked down the aisle as a flower girl. Maxi was accompanied by Ashlee's 5-year-old son, Bronx Wentz.
When the 34-year-old groom began to recite his vows, he choked up and had to start over again. And, according to sources, Jessica was just as nervous when she said hers. In fact, she was so overwhelmed that instead of addressing Eric, she said her own name! Luckily, she laughed it off and started over again.
After swapping vows, the newlyweds gave a statement to People. "We are overwhelmed with complete happiness and love having made our eternal commitment," Jessica and Eric gushed. "To say 'I do' in front of family, friends and, most importantly, our children has been the happiest moment of our lives."
During the reception, Eric's father gave a touching toast, but neither of Jessica's parents made speeches. "It was very emotional," a source said. An insider adds, "Jessica looked very happy on her wedding day."
The bride didn't dance much, sources tell E! News. Instead, she chose to chat with family and friends. That didn't stop the fashion designer's guests from busting a move, as some of them stayed until 5 a.m.
When guests exited the wedding, women were given rose-colored leather totes. They were filled with items personally designed by Jessica, including sunglasses. Each bag also had delectable treats to eat.
Following an 80-month engagement, the wedding went off without a hitch. "You better believe it was, 'Wow!'" one guest told E! News. "That freakin' thing must have cost a million bucks. It was fantastic."
Indeed it was. "The whole weekend was magical for us," Simpson told People. "We feel complete."
—Reporting by Sara Kitnick and Senta Scarborough