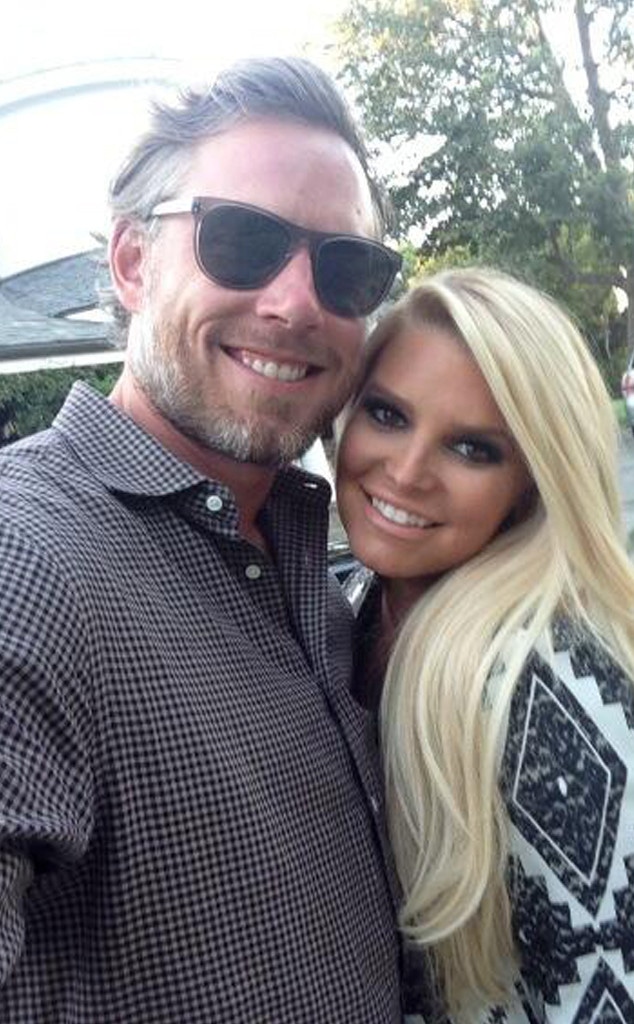 Twitter
UPDATE: It's official! E! News has confirmed that the wedding ceremony has concluded and Jessica Simpson is now officially Mrs. Eric Johnson. Congrats!
__________________________ 
Here comes the bride!
E! News has learned exclusively that Jessica Simpson's wedding to Eric Johnson is officially underway. Simpson has already made her walk down the aisle and is just seconds away from formally swapping vows and becoming a Mrs. for the second time.
The ceremony is taking place in front of close friends and family at the luxurious San Ysidro Ranch, located in Montecito in Santa Barbara County, California on Saturday, July 5. Cheers and applause rang through the venue as the bride and groom appeared and the Beach Boys' 1966 ballad "God Only Knows" was heard as well.
The newlyweds, parents to daughter Maxwell, 2, and son Ace, 1, exchanged vows on the ranch's luscious lawn in a traditional ceremony setting, against a backdrop of lavish rose gardens and under a canopy with chevron seating.
The two have been celebrating their nuptials over the holiday weekend, beginning with a rehearsal dinner on Thursday night, followed by a Fourth of July barbecue.
Christopher Peterson/Splash News
More than 250 guests attended the wedding. The list included the likes of Jessica's sister Ashlee Simpson and her fiancé Evan Ross, actress Jessica Alba and her family, That '70s Show alum Topher Grace and his girlfriend and Johnson's old football buddies from Yale and the NFL, including Tim Rattay.
Many of the women sported brightly-colored gowns in shades of pink, champagne, gold and turquoise, while male guests wore black tuxedos and suits with either black ties or bow ties.
On Saturday morning, Jessica and her bridal party enjoyed a special lunch and other guests got their hair and makeup done—while sipping champagne!
Also on Thursday, the couple's guests enjoyed a leisurely day in and around the ranch, with the gentlemen playing a morning game of golf and the ladies spending some quality time in the spa. How lovely!
Truth be told, Jessica has been planning for her big day for several months now, but she wasn't that far along in the process in January when she made an appearance on Good Morning America.
When asked if she could spill any details about the celebration, Jessica replied, "We don't have an actual [wedding] date, but we do know that we want it to be this year. We need to get married!"
She then joked, "I already feel like we're an old married couple. Like, if he wanted to run, he could've run when I was hormonal and pregnant."
But the 33-year-old did tease to Today's Savannah Guthrie that her wedding would "definitely be extravagant," because, as she puts it, "I don't do things small!"
She and Johnson first went public with their relationship in July of 2010 after meeting a mutual friend's party months prior. The two lovebirds were seen smooching on a boat docked off of the island of Capri where they were celebrating Simpson's 30th birthday.
In November of that year, the former Fashion Star mentor announced that she was engaged to her hunky beau.
Jamie McCarthy/Getty Images for Jessica Simpson Collection/This photo of a minor was taken at a public event
And the good news kept coming for the good-looking duo…
On Halloween in 2011, Simpson announced that she was expecting her first child. She gave birth to daughter Maxwell Drew Johnson in May of the following year.
Roughly two years later, she gave birth to the family's second child—a baby boy named Ace Knute Johnson.
After having two kids, Simpson worked tirelessly to drop the baby weight and even used her wedding as her 2014 fitness inspiration.
"The new year will definitely bring on the wedding bells, which is exciting…I think it's about time," Simpson said in an advertisement for Weight Watchers.
"Knowing that I have the wedding coming up is an incentive to stay on Weight Watchers, count my points and stay in the gym. I mean, when you see my dress, you'll know."
And we do know! Simpson has been looking phenomenal as of late and was one absolutely stunning bride.
Congratulations to the happy couple!