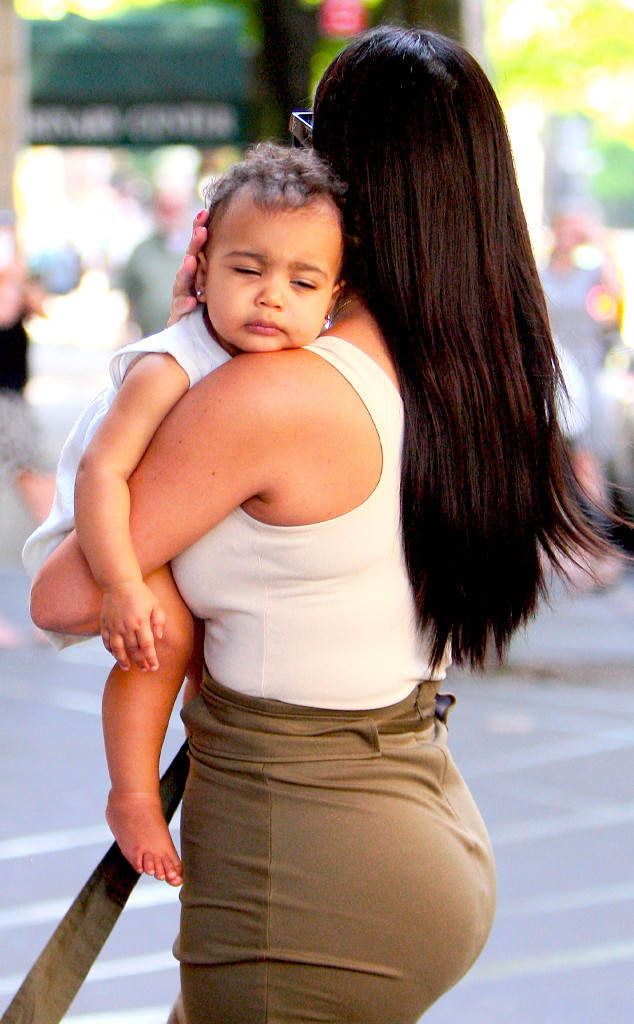 Sharpshooter Images/Splash/Kimkardashian.celebuzz.com-This photo was posted on parent's social media in accordance with E!'s No Kids Policy
We know Kim Kardashian loves being a mom to daughter North West, and now, the 33-year-old beauty is providing further insight into her life as a new parent.
The Keeping Up With the Kardashians star, who welcomed her first child with husband Kanye West just over one year ago, spoke with Julia Restoin-Roitfeld for her blog, Romy & the Bunnies, and opened up about the joys of living life with her sweet baby girl in addition to sharing tips for working moms on-the-go.
"I love being a mom!" the E! star gushed. "It's the most rewarding feeling! I really love every phase! Just the way my daughter laughs with me, all of the small things in life you appreciate!"
Despite her baby bliss, Kim admitted that there have been challenges when it comes to parenthood, particularly after it came time to head back to work.
"I took a hiatus after I had the baby, and found it challenging to start working again because I didn't want to spend any time away," she revealed when asked about the most challenging aspect of motherhood. "But you adjust and prioritize, and just figure it out!"
Indeed, it's been a balancing act for the busy mom, who finds time to juggle her career and family life (even sometimes while her hubby is away on tour!).
"It is an adjustment trying to balance a career and motherhood for sure, but the key is to prioritize," Kardashian said. "You become more selective and work on projects that are so meaningful because you want every other waking moment spent with your family."
As for her advice?
"You have to remember though to make time for yourself," she shared. "If you feel good, you will be happy in your career and family life and everyone is happy!"
Sharpshooter Images/Splash/Kimkardashian.celebuzz.com
Kim and Kanye recently celebrated little Nori's first birthday with a "Kidchella"-themed party, named, of course, after the arts-and-music extravaganza Coachella and featuring a variety of carnival-esque activities for kids of all ages. While a number of family and friends attended the lavish party, the couple enjoyed a low-key family day in NYC on Nori's actual birthday, which also happened to fall on Father's Day.
"Kanye and I took North to a few museums for her first birthday and had some family fun time," Kim wrote on her blog, sharing a few adorable photos of her daughter. "It was also Father's Day, which made it an even more perfect day in NYC. We had so much fun playing and running around, she had to nap on my shoulder. One of the best days Xo."
The pic of little Nori sleeping on Kim's shoulder is seriously killing us with cuteness, and it couldn't be more fitting, considering it goes hand-in-hand with Kim and North's favorite activity!
"My absolute favorite thing is taking a nap with her," the proud mama gushed. "We cuddle and fall asleep holding each other. It's my favorite time just snuggling with her."
Aww.
Tune in for a new episode of Keeping Up With the Kardashians next Sunday at 9 p.m. on E!
(The photo of North was posted with parental consent in accordance with E!'s no kids policy.)