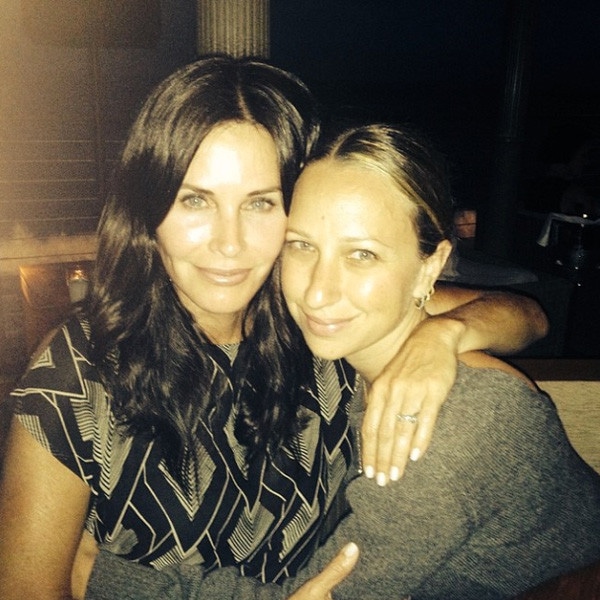 Instagram
After newly engaged Courteney Cox flashed her engagement ring she got from rocker Johnny McDaid last week, we wanted the ring details, stat.
Now thanks to her good pal Jennifer Meyer, we've got the scoop on Courteney's gorgeous sparkler.
Jennifer is a renowned jeweler (and the wife of Tobey Maguire), and she's known for her trademark aesthetic: cool, understated and often dainty jewelry that is beloved by celebs. Jennifer posted a pic on Instagram Tuesday afternoon, revealing that she created Courteney's engagement bling.
"I guess he liked it so he put a Jennifer Meyer ring on it!! Xo #Johnny #Courteney #jennifermeyer #engagementring," Jennifer wrote alongside a pic of Courteney wrapping her arm around the jeweler, showing off her sparkling ring in the process.
We love announcements that include a Beyoncé allusion, but a rep for Jennifer Meyer Jewelry confirmed to E! News in plain terms.
"Courteney Cox's engagement ring was designed by Jennifer Meyer," the rep said. "Jen was so excited to design such an important piece for her best friend."
So sweet! Clearly it's not bad having a friend who also happens to be a fabulous jewelry designer!
—Reporting by Ruth O'Neill