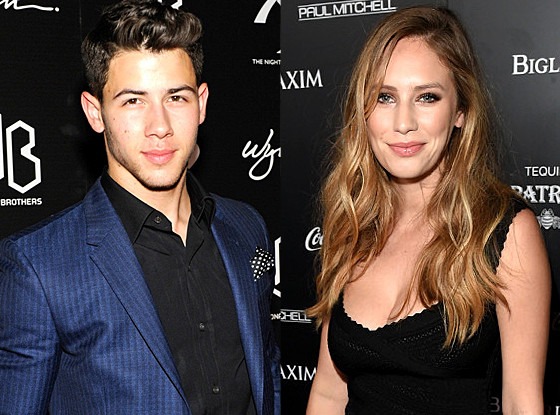 David Becker/WireImage; Jason Merritt/Getty Images for MAXIM
Nick Jonas and Dylan Penn make for one very hot couple!
No, they're not dating!
The two were in downtown L.A. this weekend shooting a secret video project for Mr. Jonas.
"It's very hot," a source exclusively tells me. "It was very sexy and steamy."
Filming took place over two days at the Hotel Alexandria, an historic building which has also been used for Dreamgirls, Water for Elephants and Se7en.
Sources declined to detail what the video was for, but they assured us, as one eyewitness put it, "there was a ton of chemistry."
KVS/Gaz Shirley, PacificCoastNews
Jonas tweeted an Instagram photo on Saturday showing actors dressed as riot police with a simple caption saying, "#foreshadow."
A few days before he posted a video of himself with singer-producer Mike Posner along with a sample of new music with the message, "musictime #areyouready @mikeposner."
We're definitely ready!
Also coming up for Jonas is the indie movie Careful What You Wish For and Kingdom, a new DirecTV series (premiering in October) that takes place in the world of mixed martial arts.
Penn (she's the daughter of Sean Penn and Robin Wright) recently wrapped her first movie, Condemned, a horror flick costarring Lydia Hearst.
"I'm trying out this whole acting thing," she told Treats magazine in April. "It's hard to say for me because I've rejected it my whole life until now. I literally can't say it without laughing. My truest passion is writing so I continue to do that on my own while seeing what all the buzz is about being in front of the camera."