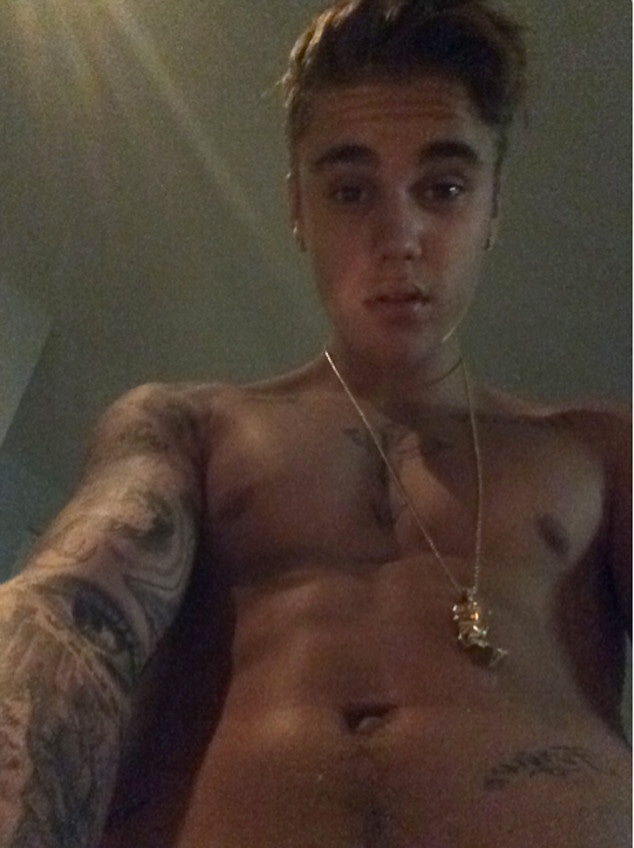 shots.com
Justin Bieber can't keep his shirt on (for better or worse).
The 20-year-old pop star took to his Shots account over the weekend to share a very revealing, nearly naked selfie of himself.
In the shirtless shot, the Biebs appears not to be wearing any clothes as he directs the camera lens towards his chest to show off his muscles and tattoos. The only thing Bieber is wearing is a gold chain necklace as her stares into the camera. He captioned the dark photo, "Night."
Selena Gomez's man also shared a photo of himself cuddling with gal-pal Catherine Paiz and Chantel Jeffries, the same lady friend who was with the singer when he was arrested for DUI in Miami in January.
"Studio with these fools @chantel @catherine," Bieber wrote with the pic showing the two girls cozying up on each side of him.
Jeffries shared her own pic of Bieber and Paiz, writing, "My Canadian babies trying to take a shots."
Despite the cozy pics, a source tells E! News that Bieber and Jeffries are "just friends" and that he and Gomez are still together.
Meanwhile, Bieber stepped out Saturday night in L.A. where he was spotted with a mystery woman at the Moonlight Rollerway in Glendale.
—Reporting by Michelle Falls and Baker Machado