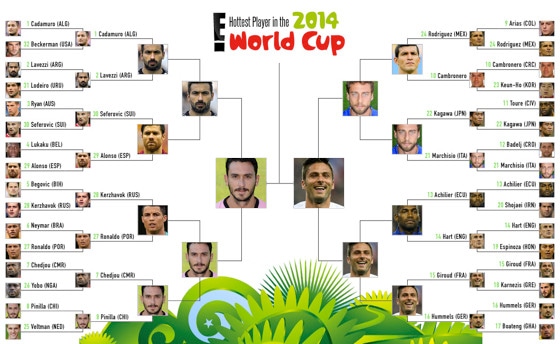 E! Online
Last week, we asked you to tell us who the hottest player in the World Cup is (you know, so we know who to root for and also who to Google image + shirtless). And you did: We started with 32 players, one from each team in the Cup, and in a knockout tournament, you eliminated 30 footballers (bye, Kyle Beckerman! Adeus, Cristiano Ronaldo!)
In the end, we were left with Chile's Mauricio Pinilla and France's Olivier Giroud.
More than 50,000 votes were cast. And the Hottest Player in the World Cup is...Mauricio Pinilla!
If you saw the comments section of the finals, this probably doesn't come as a surprise to you. Team Chile came out in full force to vote Pinilla to the top, locking in over 88.75 percent of the votes. 
This wasn't just a victory. It was a landslide.
And perhaps a consolation prize since they were eliminated from the actual Cup yesterday.
Anyway, let's celebrate with these shirtless pictures of Pinilla. Because no matter where you're from, or which team you are rooting for, we can all appreciate a hot dude. That's what the World Cup is all about. (Right?)