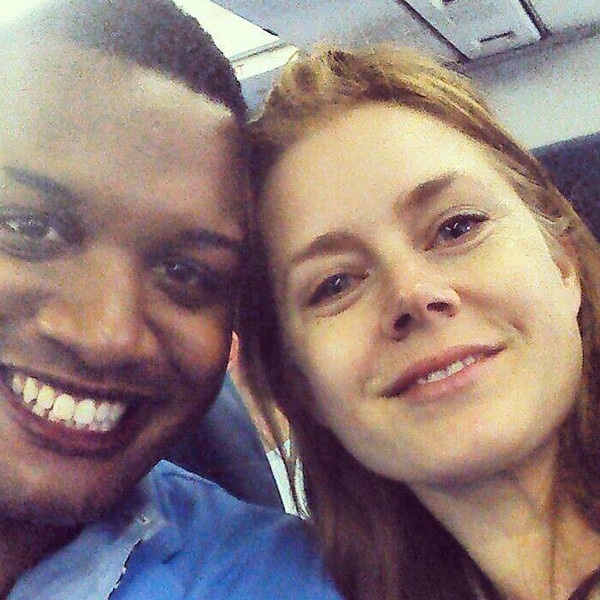 Twitter
UPDATE:  Her new seatmate, journalist Ernest Owens, tweeted a photo of himself with the actress, pictured above.
__________________________ 
Amy Adams is a class act.
The five-time Academy Award nominee gave her first class seat to an American serviceman who was also on her Delta flight. Adams, 39, took his seat in coach during their flight from Detroit to Los Angeles.
Jemele Hill, co-host of ESPN's Numbers Never Lie, broke the news via Twitter Friday morning. "I'm an even bigger fan now," she tweeted. Hill was unaware that Adams was born on a military base during her father's days in the service. The family moved several times before settling in Colorado when she was 8.
Hill recounted the experience via e-mail. "When we were waiting to board, I saw her glance the soldier's way and then she said something to the person she was traveling with," Hill wrote to NBC's Today in a message from the flight. "Once we boarded, I saw she was in first class. I was upgraded to first class and she was a couple rows behind me. I think she must have said something to the flight attendant, because before we took off she had vacated her seat and the flight attendant brought the soldier to her seat."
A flight attendant told Hill that the serviceman chatted privately with Adams near the front of the plane.
"I just thought it was incredibly classy and thoughtful," Hill said of the actress' selfless gesture.
Adams has spent the past month and a half shooting Batman v Superman: Dawn of Justice in Michigan. The blockbuster, co-starring Ben Affleck and Henry Cavill, is scheduled to hit theaters on May 6, 2016.
(E! and NBC are both part of the NBCUniversal family.)