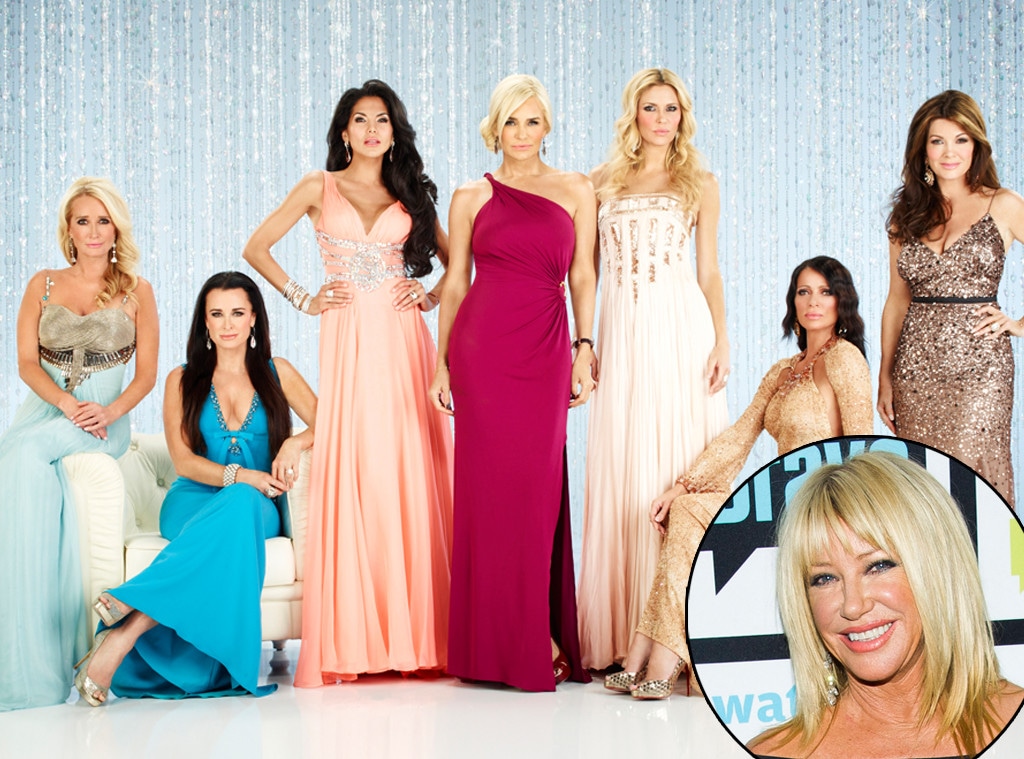 Rodolfo Martinez/Bravo
Come and knock on her door, Bravo!
(Sorry. We couldn't resist. #ThreesCompanyFansForLife)
Rumors have been swirling that Suzanne Somers is in talks to join Real Housewives of Beverly Hills for the upcoming fifth season.
But those rumors, sadly, are untrue.
Multiple sources confirm to E! News that Somers will not be joining the cast of RHOBH. She is friends with many of the cast member and may have filmed or is going to film scenes in a social setting, but she is not joining the cast.
A rep for Somers tells us there is no truth to the report that the Three's Company actress is in talks, saying, "We do not have any comment, since no one has contacted Suzanne about these talks."
Somers herself went on Access Hollywood Live earlier this month and said she isn't interested in joining the cast of any of the Real Housewives shows, because, "That's not my nature. I don't fight."
She then revealed that she was originally offered a spot at the very beginning of The View, but turned that down, because, "I don't see myself in that [situation], where I am like, screaming for time." She also hinted that she would have replaced Debbie Matenopoulis as "the young one" and added that she's still not interested in joining The View.
So what does the artist formerly known as Chrissy Snow want to do now? "I want to go back to Vegas," she reveals with a sly smile. "I'm in the mood for that. I'd like to lie on a piano and  wear a slinky dress and sing sexy songs and talk."
And so herein lies the reason that we are legitimately bummed that Bravo isn't knocking down Suzanne's door to be a part of the RHOBH cast, or heck, even give her her own reality show: She is reminiscent of a real-life Valerie Cherish and would make for some amazing TV. Just our opinion. And if you don't get that reference, immediately order season one of The Comeback with Lisa Kudrow now.
As for the RHOBH cast, filming is already underway for season five, and we know that Lisa Vanderpump, Kyle Richards, Brandi Glanville, Kim Richards and Yolanda Foster have all signed on for another season, while Joyce Giraud and Carlton Gebbia will not be returning. Sources tell us that Bravo has sought out other cast members, but so far, none of the empty spots have been filled.