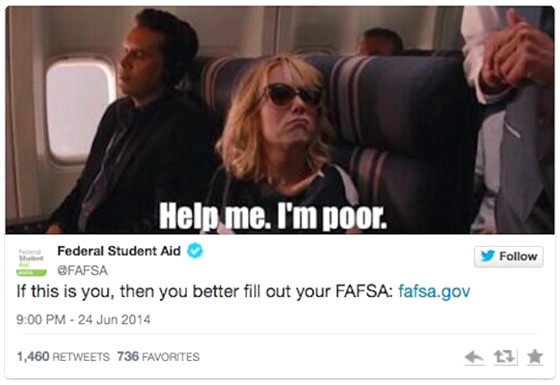 Twitter
People are PISSED about financial aid. Not because it's basically essential to afford your rising college tuition these days. Or because, with interest rates, you're going to be paying them off until you're dead. People are pissed because @FAFSA, the official account of Federal Student Aid, tweeted an "insensitive" Bridesmaids meme.
FAFSA, which is the Free Application for Federal Student Aid that students must fill out to get grants, loans or work-study funds, tweeted a screenshot from the movie, where Kristen Wiig begs to sit in first class with her friends even though she can't afford it.
Or as ABC News described it:
A tweet appeared tonight on the Twitter account of the federal financial aid agency known as FAFSA including an odd photo of a woman seated on an airplane with the caption, "Help me. I'm poor."
(That's our favorite part of this entire story. No one at ABC knows what Bridesmaids is!)
Other Twitter users were not amused, calling the joke "tasteless, offensive, and ignorant."
@FAFSA not everyone who completes a FAFSA is poor and mocking those who are at or below FPL is tasteless, offensive, and ignorant.

? Kristen C.-Kappus (@kckappus) June 25, 2014
Bad social from @FAFSA. Being ?poor? is nothing to joke about, especially with the hardships people go through to go to school.

? My Name Is My Name (@CoryTownes) June 25, 2014
Along with deleting your tweet, you need to apologize to those that you offended that use this tool to try and better themselves @FAFSA.

? Cody Conners (@gosutrolling) June 25, 2014
And they did: FAFSA deleted the original tweet and in its place said, "We apologize for the insensitivity of our previous tweet. Our goal is to make college a reality for all. We're very sorry."
Their apology appears to be the most retweeted post on their account, to which we must ask, Who is retweeting the FAFSA account? Also, who is following them in the first place? Is filling out a million hours worth of paperwork in the hopes of getting even a little financial aid not punishment enough? Why do you want them tweeting up your feed as a constant reminded of the loans you'll be paying back into retirement? No thank you. Unfollow.
(A sidebar to that last point that Jezebel notes: A group of senators have introduced a bill that would simplify the FAFSA process and require students submit only two pieces of information: How large their family is and how much money their family made in the past two years. It's "a lot less paperwork, and a lot more transparency," the New York Times explains.)