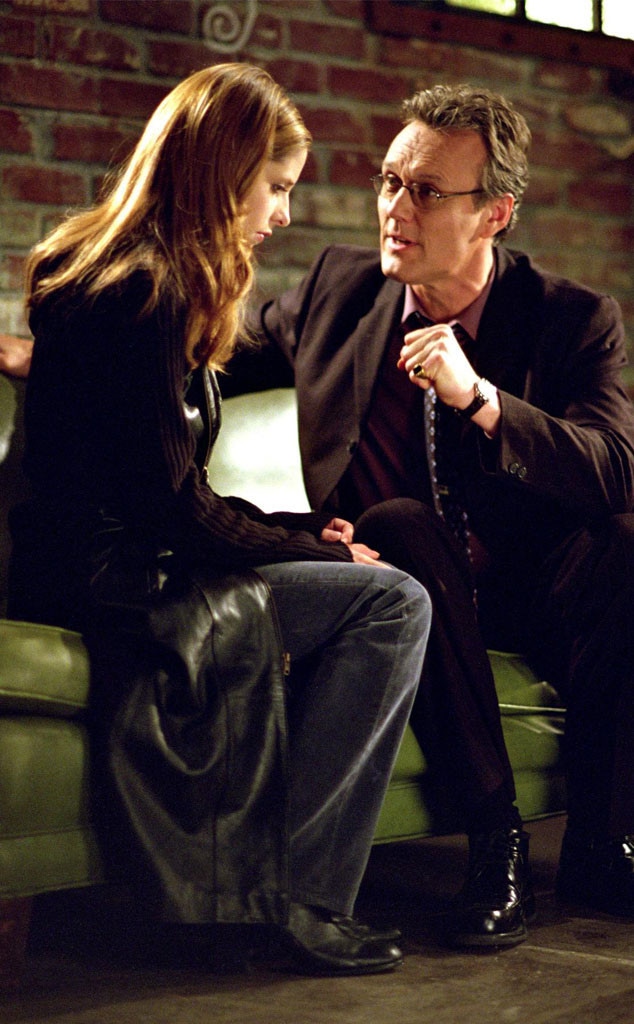 WB
If Anthony Stewart Head has his way, you haven't seen the last of Buffy the Vampire Slayer's Rupert Giles.
Head, who played Buffy Summers' (Sarah Michelle Gellar) Watcher and mentor on the beloved Buffy the Vampire Slayer, had been at the center of a Ripper spinoff of sorts for years now that would follow Giles being, well, pretty flippin' badass. But sadly, nothing ever came together. Yet Head hasn't given up hope of reuniting with Joss Whedon for the project.
"You know what? I would do it. I would do anything to work with Joss again. He's a wonderful storyteller, a great director, and a lovely man," Head told Vulture when asked about a Giles spinoff still coming together. "I would love to, you know? Whether it's Ripper or something else..."
Head currently stars in Syfy's Dominion and everybody knows what Whedon is up to: Avengers: Age of Ultron.
Talk of a Giles-centric spinoff isn't anything new. The project was originally set for BBC with a 2008 premiere, but never came to fruition. The story would follow Giles, who was known as Ripper in his youth, after "he's cut adrift from Buffy and the rest of them," Head told Vulture. "What he becomes. It's a beautiful, beautiful ghost story, and it's extremely haunting, as you would expect of Joss. It's unlike anything that I've ever read before. And if Joss is still game, then I am!"
In Dark Horse's Buffy the Vampire Slayer comic book series, Giles was killed off, but later resurrected with the help of Angel and Faith. However, it didn't got exactly as everybody hoped. Giles was brought back with his mind intact, but in the body of a preteen. Talk about a role reversal!
Let's take a moment and remember how awesome Giles was on Buffy the Vampire Slayer.