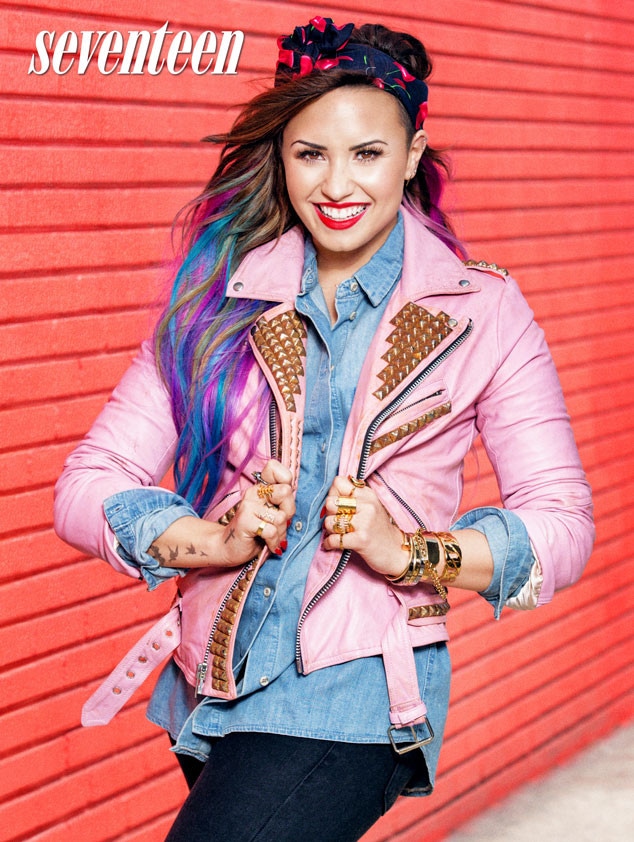 Ben Watts/Seventeen
Demi Lovato is living proof that life gets better.
The "Really Don't Care" singer entered rehab in late 2010, and since then, she has been an advocate for people dealing with mental health issues. Lovato guest-edits and covers Seventeen's August 2014 issue, where she once again discusses her emotional journey and gives advice to those facing similar struggles.
"Since I went to treatment, there have been days when it's felt really easy, and I've felt great about where I am. But then I have moments when it's not. That's life," she says. "You can't just take your mind and your body into the shop and get it fixed. It doesn't come out repaired. It's not like a car. It takes time—pace yourself. Every day is a new opportunity to change your life and be who you want to be."
"I used to think that confidence came from what other people thought about me, and boys and everything else," the Camp Rock star tells the magazine. "But now I realize that confidence comes from what I feel about myself, and reassuring myself that I can do whatever I want and be whoever I want."
According to Lovato, it's important to surround oneself with like-minded people.
"I like to have friends in my life who believe they're going places and are working toward their dreams," the pop star explains. "When you're growing and the people around you aren't, that's when you have to start shedding them. I've done that a lot over the past few years, but it has been so worth it, because the people in my life today inspire me to keep being creative, to have fun, and to be a good person."
How does Lovato foster positivity? "I tell myself five things that I'm grateful for, for every negative thing that I think," the singer explains. "You know how people have swear jars, where if you swear you have to put a dollar in the jar? You could do that with feeling insecure—every time a friend says something bad about [himself/herself], they have to put a dollar in a jar. [And then] you can donate it to charity."
Changing her perspective has been life changing, particularly when people can be cruel via social media.
"I'm impulsive when it comes to fighting back, but I've learned to reel it in," the former Sonny With a Chance star tells Seventeen. "Tweeting without thinking does more harm than good. So take a second. Journal what you want to say, and then if you still feel the same later, that's when you can tweet it."
The sober star is proud of her progress, and she hopes sharing her story will help others. "I know that if my career were to fall apart tomorrow—even if I were to never have money or fame again—I'd still have value in my soul," Lovato explains, "because I know that I can have an effect on someone else's life."