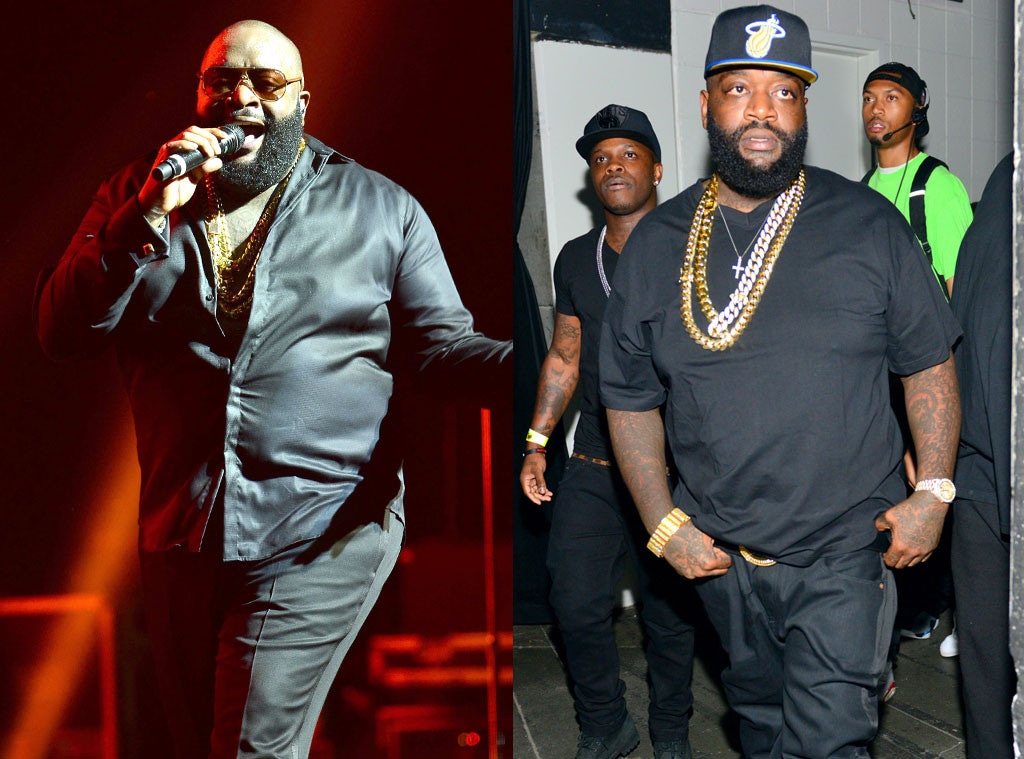 Getty Images
Have you seen Rick Ross lately?
The hip-hop star has been losing weight gradually since last year and has dropped an estimated 100 pounds at least, according to reports. Ross, who has continuously touted the CrossFit fitness program when asked about his slimmer figure, and his rep have not confirmed an actual number.
Fans started to notice Ross' weight loss last fall (pictured above, left, Ross performs in Miami on Nov. 23, 2013). He appeared slimmer than ever at Hot 107.9 FM's Birthday Bash 19 in Atlanta on June 14 (pictured above, right).
The rapper had for years struggled with his weight and had also been ridiculed for it, even spurring online memes. (Chelsea Handler even made a sexual joke about the "padding" on his face in a 2012 interview on E!'s Chelsea Lately.)
Ross has talked about his weight loss several times over the past few months, saying he has been training with the CrossFit program, which combines a slew of high-intensity workouts.
"It's a different type of little workout," he said on The Rickey Smiley Morning Show last September, adding, "I feel good."
In April of this year, Ross told 93.9 WKYS FM, "It was just time for me to tighten up a little bit, you know what I'm saying. As far as, you know, me working out...I have no destination, no specific weight."
"And also, you know, I've been doing this CrossFit thing, you know, shout-out to Reebok, we had started doing that, you know, last year, sometime and you know, it's just catching up a little bit."
In May, Ross, appearing shirtless, talked about his weight loss in an on-camera interview with British DJ Tim Westwood.
"You know, I ain't really keeping up on, you know, the amount, you know, of weight," he said. "I just, I just wanted to, you know, get in some better shape, you know what I'm saying, put myself in a better position. So I just, I still eat the way I want to eat...I just go to the gym. I do this s--t called, uh, CrossFit. I call it 'RossFit.' Yeah, yeah, yeah, it's called 'RossFit' now."
Ross said that via Reebok, he had obtained a trainer who introduced him to the method, which has been touted by the likes of auto racing star Danica Patrick and Bob Harper of The Biggest Loser.
"Let's say, for instance, if you got on a treadmill and you did that s--t for 30 minutes, yeah you're burning calories but you could be doing something that's burning calories and building muscle at the same time. So it's like, you're working out a shorter time. I could go out and do some s--t for 20 minutes and you could be looking like this, you heard me?" he said, looking at the camera and flexing his bicep and later, his pecs.
"You know, the most I used to do for exercise was stand up to count the money, you know what I'm saying?" he joked. "But now, they, they, you know, they give me fruit to eat. I forgot what fruit, you know, tasted like. I eat pears now and s--t like that."