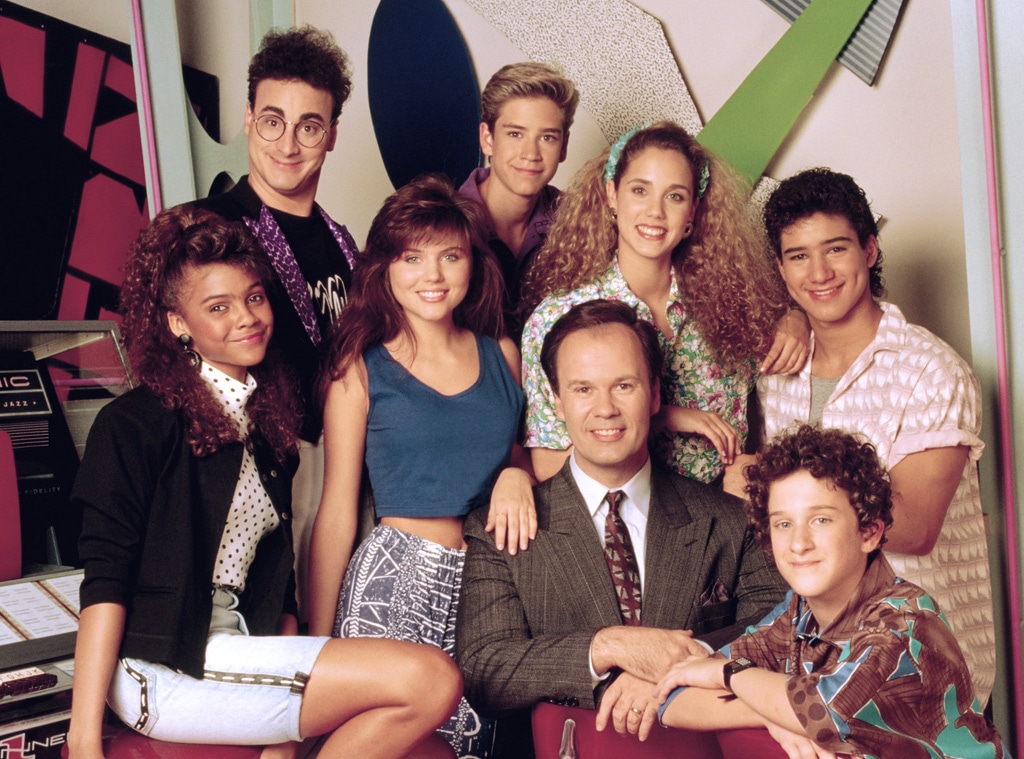 NBC
To put our own spin on the iconic words of Jesse Spano: we're so excited...and a little scared!
A Saved By the Bell movie is officially happening, people! But wait, before you start cheering, we should clarify something: it's a tell-all movie that will reveal all the behind-the-scenes secrets of the iconic series, which ran from 1989-1993. No, it's not authorized, and no, none of the original cast is involved. 
Lifetime is set to air The Unauthorized Saved by the Bell TV movie on Sept. 1, the network confirms to E! News. As first reported by Buzzfeed, The Unauthorized Saved by the Bell Story is based on intimate interviews with key members and was cast by the original series' casting director, Robin Lippin.
Here are the actors taking on the role of Bayside's coolest group of friends: 
Mark-Paul Gosselaar: Gosselaar became the go-to crush of teen girls everywhere after making his debut as Zack Morris, the show's smart-mouthed narrator, and Bayside High's hottest guy. In what is our favorite bit of casting for this project, Degrassi: The Next Generation's Dylan Evrett, whose character Campbell committed suicide, a first for the long-running Canadian teen drama, will play the Franklin & Bash star in his SBTB glory days.
Tiffani-Amber Thiessen: Kelly Kapowski is arguably the most iconic girl next door/hottest girl in school ever to flip her hair on a teen drama, so casting is crucial here. Taking on the role of Thiessen, who now stars on White Collar, is newcomer Alyssa Lynch.
Mario Lopez: Lopez, who later went on to compete on Dancing With the Stars and host Extra, as well the final two seasons of The X Factor (RIP), played hunky jock A.C. Slater, and will be portrayed by Julian Works, who recently starred in Paranormal Activity: The Marked Ones.
Elizabeth Berkley: Before starring in the infamous Showgirls, Berkley played the brainy beauty Jesse Spano. Supernatural's Tiera Skovbye will attempt to fight a fictional addiction to caffeine pills when she takes on the role. 
Dustin Diamond: Oh, this will be a fun role, for sure. Though he played one of TV's biggest nerds ever, Screech, Diamond sure acted like a troublemaker after the series wrapped when he wrote Behind the Bell in 2009, a tell-all that shed the light on all the behind-the-scenes drama. Shameless star Sam Kindseth will portray Diamond. 
Lark Voorhies: Blink star Taylor Russell McKenzie will tackle the role of Voorhies, who played Bayside's resident fashionista (and the awesomely named) Lisa Turtle. 
The Unauthorized Saved by the Bell Story will air Sept. 1 at 9 p.m. on Lifetime.