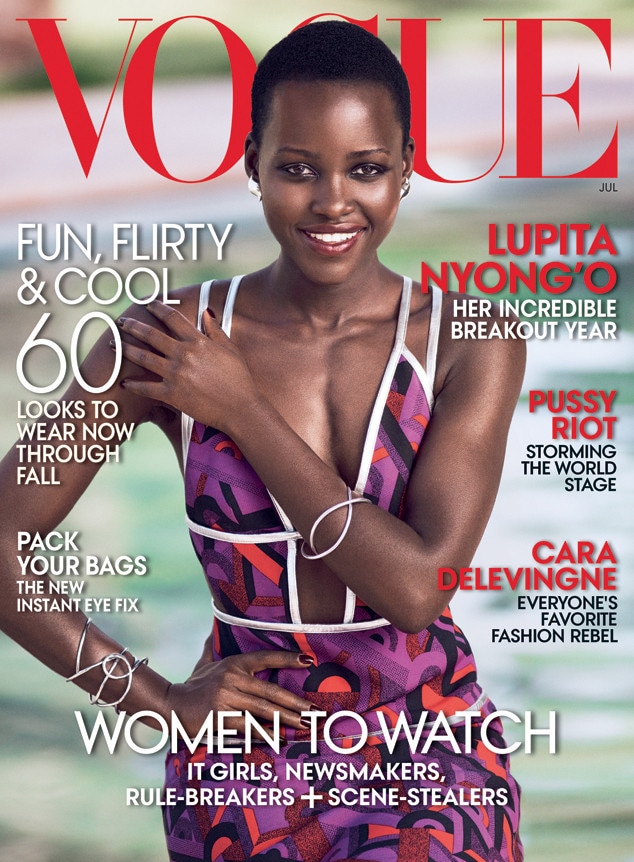 VOGUE/Mikael Jansson
It's official: Lupita Nyong'o is having the best year ever!
In March, she won an Oscar for her role in 12 Years a Slave. Three months later, the Yale University graduate joined the cast of Star Wars: Episode VII. And now, Nyong'o's landed her first Vogue cover.
The actress is profiled in the magazine's July 2014 issue, reaching yet another milestone in her career.
"It just feels like the entertainment industry exploded into my life," Nyong'o says. "People who seemed so distant all of a sudden were right in front of me and recognizing me—before I recognized them!"
Nyong'o first realized that her life would never be the same after the SAG Awards in January, when she was mobbed by paparazzi at the airport. "For a split second I looked behind me to see who they were flashing at—and it was me!" she recalls. "That was, I think, the beginning of the end of my anonymity."
Winning an Academy Award only intensified the interest in the newcomer. "I had already gotten the nomination, which was truly, truly astounding, and enough," she remembers. "Even in my dreams of being an actor, my dream was not in the celebrity. My dream was in the work that I wanted to do."
When her name was read out, the experience was, as she recalls, "very confusing, very numbing. I was just repeating my name in my head, so I didn't know whether I had said my name or they had said my name! And then my little brother screamed, and time was suspended and it was just noise in my head."
Nyong'o worried about tripping as she made her way up the stairs, she recalls, because "it's not cute if you follow Jennifer Lawrence—it's not cute if you're the second one!" The actress adds, "People are still filling me in on what happened after. My mother says I cried during the speech; I don't believe her."
Beginning with a film festival in September 2013, Nyong'o made more than 60 red carpet appearances. She worked with stylist Micaela Erlanger, whom she met through her Non-Stop co-star Michelle Dockery. The two met for "epic six-hour fittings," Nyong'o recalls. "It's a job; it's work, you know. We'd just try, try, try, try, try, try, try. At first it was very daunting, but I ended up really having fun with it."
More often than not, Nyong'o explains, "the dress let me know it was going to be worn. It's quite scary when you fall in love with a dress, because it's nothing to do with your brain. It's like a gut reaction."
Long before her press tour began, she recalls, "Everyone said, 'Brace yourself, Lupita! Keep a granola bar in that clutch of yours!' I didn't really understand what they meant, and it was only once it was past that I realized that my body had been holding on by a thread to get through this very intense experience. Nothing can prepare you for awards season," she reveals. "The red carpet feels like a war zone, except you cannot fly or fight; you just have to stand there and take it." The It Girl then laughs and tells Vogue, "I hope they don't make that the big quote! Because that would be sad! Tell them not to do that!"
Nyong'o is already at work on Star Wars: Episode VII, and she has a few other projects in the pipeline.
As a kid watching Star Wars for the first time, Nyong'o loved R2-D2 and C-3PO. "They just resonated with me. Being able to convey emotions with just a few digital sounds—it speaks of good storytelling," she says. Starring in the next installment is a dream come true. "It's a wonderful opportunity to be working in these fantastical realms," she says of director J.J. Abrams' upcoming movie. "They're worlds away from 12 Years a Slave, that's for sure—but that kind of diversity is what dreams are made of."