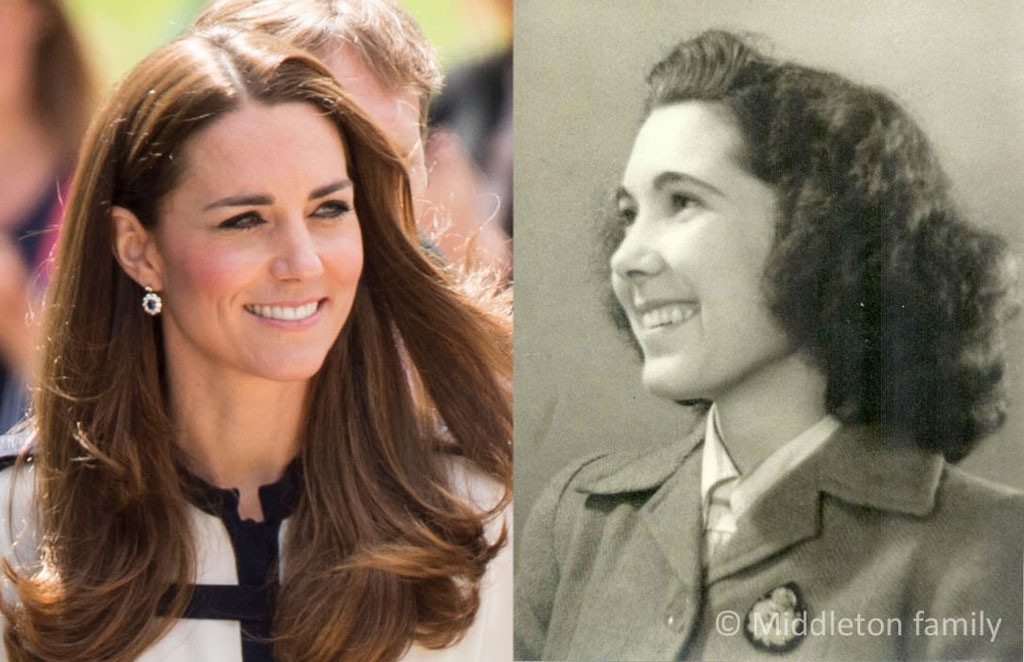 Courtesy: Middleton Family/Clarence House/Twitter; Getty Images
Apparently, gorgeous looks have run in Kate Middleton and sister Pippa Middleton's family for decades!
On June 18, a black and white, World War II-era photo of their grandmother, Valerie Glassborow, was posted on the Twitter page of Clarence House, which represents the 32-year-old Duchess of Cambridge's immediate Royal family, including husband Prince William. In the pic, Glassborow sports a cute '40s hairstyle and a beautiful smile.
That day, Kate visited Bletchley Park, where her "granny" worked during the war, to mark its official opening as a museum. Glassborow (later Middleton), the mother of Kate and Pippa's father Michael, served as a civilian staff member at the site. It was the home of the U.K.'s Government Code and Cypher School, the country's code-breaking center that was often dubbed a "spy school." 
Bletchley Park, which underwent a $13.6 million renovation, is where computer scientist Alan Turing (soon to be played onscreen by Benedict Cumberbatch) famously cracked the Enigma code, which Nazi Germany used to encrypt secret messages, in 1941. This helped Britain and the Allies win the war four years later. Local television network ITV reported that Kate's grandmother helped intercept enemy signals for Britain.
Kate's grandmother married the duchess' grandfather, British military pilot Peter Middleton, in 1946, the outlet said. Valerie, who also had a twin sister who worked with her at Bletchley Park, died in 2006 at the age of 82, according to Hello! magazine.
During her visit, Kate met with 90-year-old Lady Marion Body, who worked with her grandmother at the site during the war.
"I had often asked Granny about it, but she was very quiet," Kate told her, as seen in a video posted on ITV's website.
Body told the network there "there is a likeness" between Kate and her grandmother.
"Yes, the eyes," she said.