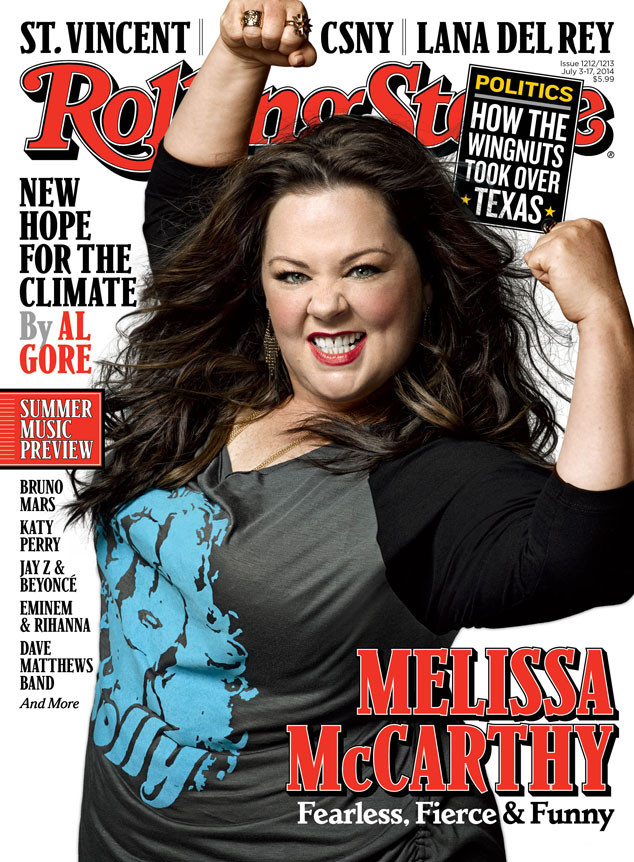 Mark Seliger/Rolling Stone
You go, Melissa McCarthy! You rock that cover!
The 43-year-old Bridesmaids and Mike & Molly star appears on the July 2014 cover of Rolling Stone, flexing her muscles in a black, gray and blue raglan top and a look that screams, basically, "Hey, I'm on the cover of Rolling Stone!"
Such an honor is certainly deserved. The actress, an Illinois native and cousin of Jenny McCarthy, rose to fame playing Lorelai's sweetheart of a BFF Sookie on Gilmore Girls and has in recent years become the It girl of raunchy, in-your-face, potty-mouthed comedy movies, a genre mostly dominated by men.
Melissa, who is promoting her newest film, Tammy, directed and written by husband Ben Falcone, also graces the July 2014 cover of Redbook. The full-length photo shows her wearing a cream jacket over a printed white T-shirt and black patterned pants. In 2013, the actress famously drew controversy over an Elle magazine cover that showed her covered up by a loose-fitting coat. She later said she picked out the outfit.