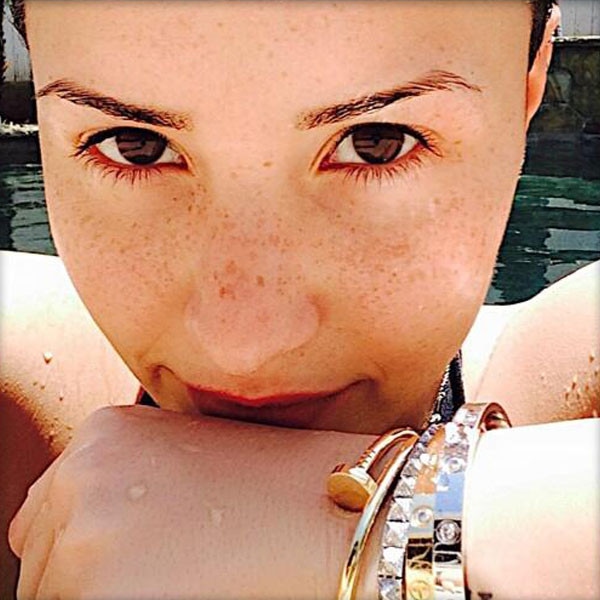 Twitter
Demi Lovato is a natural beauty!
The 21-year-old "Really Don't Care" singer took some time to relax at the pool Tuesday. She tweeted a totally makeup-free selfie from the water revealing the adorable freckles on her nose and cheeks, and she also shared a snap of her fit bikini body soaking up the sun!
As you can see, Demi is looking hotter than ever these days. The former Disney Channel star credits her toned physique to her newfound love for fitness and healthy eating. She planned for Tuesday to be "the first day I haven't worked out in a week" (tweeting that she felt "weird" not hitting the gym, "but hot damn my ass is sore!!!") However, after getting some R&R at the pool, she decided to get a workout in after all.
"Well, turns out I ended up in the gym," she tweeted, along with a glistening selfie by the exercise equipment. "Getting fit is my new hobby and I love it!!"
This health kick seems to have been kicked off by "a spiritual retreat" Demi embarked on last week. She tweeted about the getaway, which was "full of organic food, working out, meditation and reiki healing..." (According to Reiki.org, Reiki is "a Japanese technique for stress reduction and relaxation that also promotes healing. It is administered by 'laying on hands' and is based on the idea that an unseen 'life force energy' flows through us and is what causes us to be alive.")
Thanks to the retreat, Demi tweeted she felt "so ready for this summer!!!"
Good for her—happy and healthy is the way to be!