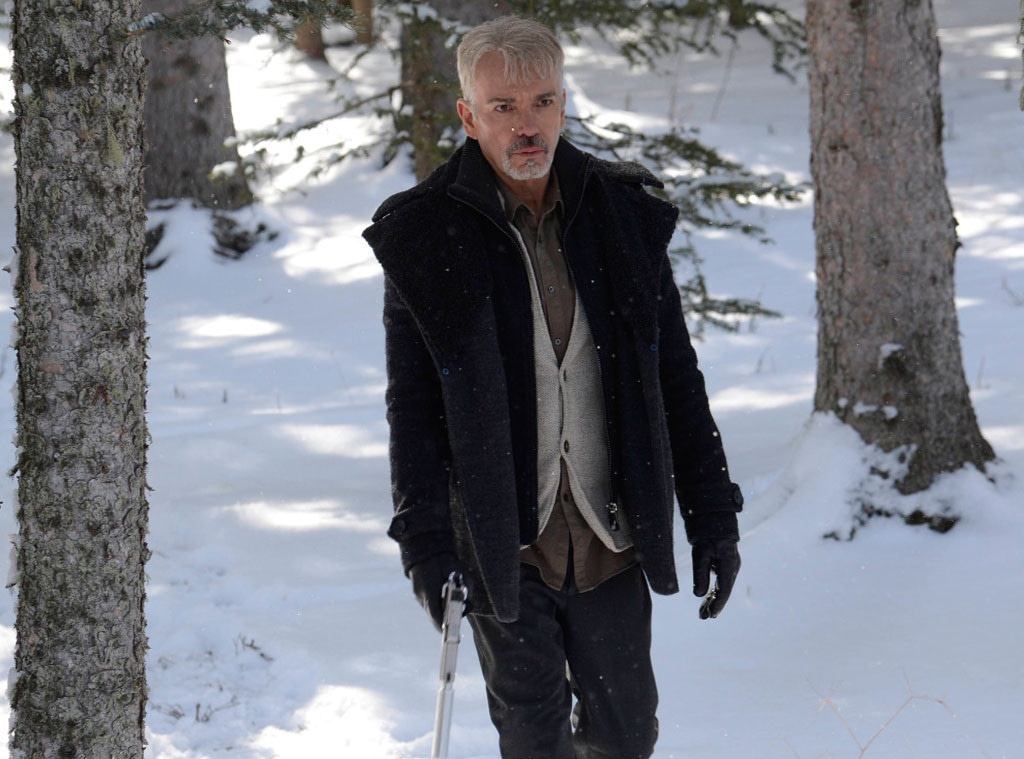 Chris Large/FX
Fargo's season one finale just went down and….
Moooooooooooore pleeeeeeeeeease.
Sorry, just had to get that out of the way real quick since a second season is not yet official!
This brilliant FX event/anthology series wrapped up with a wholly engrossing and deeply fulfilling finale, ripe with unexpected ("true") twists and the best part of all: A happy ending for the good guys.
It's precisely the way it should have ended, with Gus (Colin Hanks) and Molly (Allison Tolman) getting to live happily (and normally) ever after, and all the bat-poop crazy bad guys gone for good.
It's exactly what we wanted. And yet the way in which it all went down felt so fresh and exciting.
So…now what?
FX has not announced a season-two pick up for Fargo (tick freaking tock, yo!), but all systems appear to be go, given the show's ever-growing fanbase and critical acclaim.
Here, Fargo's big boss (executive producer and head writer) Noah Hawley lays down what he knows about what's ahead for the show, and why things went down in the finale the way that they did.
And if you missed it, make sure you check out our 11 Fascinating Facts About Fargo—with some seriously cool info you need to know!
Gus got to be the hero! I love it. But why Gus?
I was resistant to Molly being the hero because it's a true story. So I didn't want it to wrap up too neatly. So if this was Justified you'd have Tim Olyphant and the villain of that season and you'd set up that mano a mano moment and he'd get the bad guy. But this isn't that. This is meant to be a true story. So I was resistant to Gus being the solution early on, but then once it became clear was what we were setting up for the audience was Lester versus Malvo, then it felt a little subversive to have Gus be the one, you know. Because if I've done my job right you've forgotten that Gus is in that cabin and it comes as a surprise.
Definitely a surprise. How could we think about anything other than Billy Bob Thornton's horribly disgusting leg?!
Sorry about that! And there's no conversation and Gus just does it. I like that idea that here's a guy who's been struggling with his cowardice and confidence, and in the end he knows he doesn't trust himself. If this is going to end he has to do it and he has to do it before he changes his mind.
The last scene of Gus and Molly sitting on the couch, he yells, 'Take the money!' which is exactly what he said before. Is this to show that unlike Lester, his moment of bravery won't change him?
Yeah I think so. That's what the movie does and what makes it so powerful. Tomorrow they get to wake up and return to life as normal and that's their reward. We're so used to in our society these haunted demon hunter are our heroes take on all the pain for the rest of us and I like the idea that if this is the best of America versus the worst of America that these good people, the reward is that Gus and Molly get to go back to small town life. 
Do you see Lester as someone who represents a large portion of the population, that most people could just snap like that under the right circumstances? Or is he very distinct kind of psychopath?
Yeah I think when his brother says to him, there's something not right about you. There's something missing. We know that Lester has always been a little bit off.
And I think that when Malvo says there are no rules and Lester really embraces that and has the positive reinforcement of first he gets away with murder, then he gets rid of his brother who has been patronizing him all his life and then he gets salesman of the year and gets married to a pretty girl, why would he stop now? And when he reconnects with Malvo in Vegas, we are all asking 'How will Lester get out of this?!' But he walks right up to him. He needs to be recognized. You met a loser and I am a winner. We see how much he changed.
Assuming the show comes back for season two, we can assume Billy Bob Thornton and Martin Freeman won't be a part of it. And Allison Tolman and Colin Hanks would be a stretch, too. So would the show still be called Fargo and how will it work?
When I went in to pitch FX , I said the thing about the movie Fargo is that it's only the first scene of the movie is set in Fargo. But they call it Fargo. Because the word is so evocative. So for us, it has to sort of become a metaphor. It's a state of mind. It's a type of true crime case that's not true. And with a certain eccentricity of detail. It's like Blue Velvet, it's what's underneath the surface of ordinary life.
I like the image that there's a big book out there, that's leatherbound with illustrations that's The History of True Crime in the Midwest. And the movie was chapter one. And the story we just old is chapter two. And we can do just another chapter. I did like that you started out the season thinking that the first season was not connected to the movie in any way and then you realize that it is. 
Why did you want Fargo to be an anthology show? Why do you think they are resonating so much with audiences now?
I like as a show creator that right now the length of the story dictates the length of the show. Which is like, some ideas are like this is a six season idea. And some ideas are, it's a miniseries. Or with this one. It's one season or two or three.
Another aspect is there is an urgency, which we saw with True Detective and I think we've seen with Fargo, people realize that the story's gonna end, soon. So you see the first three or four episodes people are DVRing it. And then in the last three people are watching it live. Because it's going to end. It's going to be over. People are going to know the end. And no one wants the end of anything spoiled for them. So I think the networks also realize that, you know, it's not a live Sound of Music, but there is a boost that you get from saying this is a limited thing because people tune in in a way that they don't otherwise. So I think that those elements are there. And the other part of it is you can get a stellar cast because you're not asking them to commit to multiple seasons. It's like a movie for them.