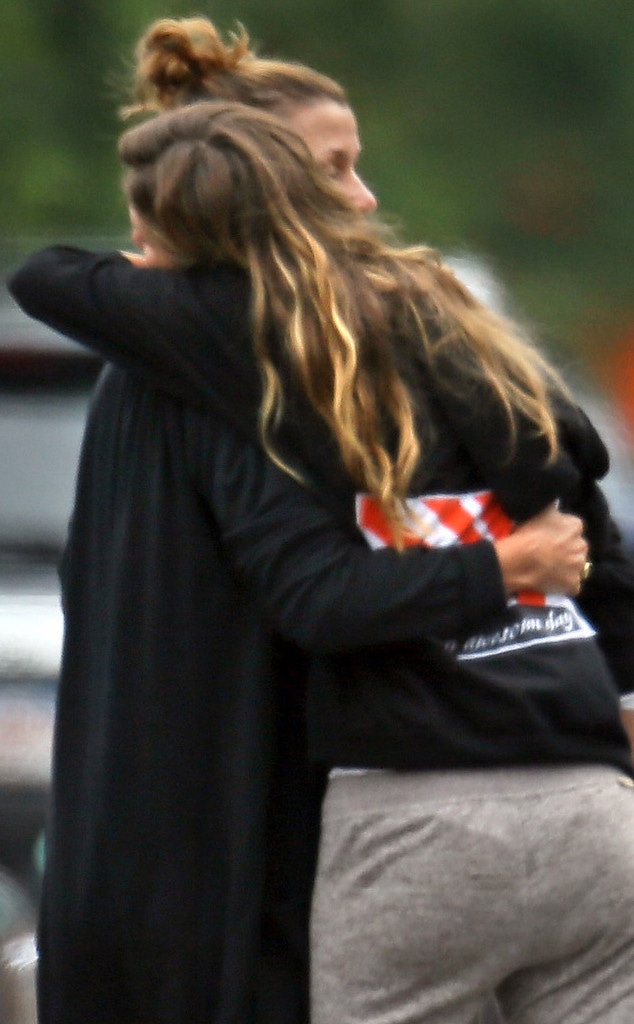 James Haynes / Splash News
It's safe to say that Gisele Bündchen and Bridget Moynahan have come a long way.
Tom Brady's current wife and his ex, who is also the mother of his son Jack, were snapped sharing a warm embrace while Moynahan dropped off her son for a visit with his dad and stepmom. 
The two ladies exchanged a quick hug and looked like they had nothing but admiration for each other as Brady stood by their side and chatted with his son.
Clearly, the NFL star and his former flame, who parted ways back in 2006, are incredibly amicable exes, who have managed to put their differences aside in order to co-parent.
James Haynes / Splash News
But it hasn't always been smooth-sailing for the trio, who had a contentious start when they initially began building their blended family.
While Tom and Gisele may be one of the world's most beautiful couples, they had anything but a blissful beginning, as the two begin dating in December 2006, just after Brady and Moynahan called it quits, only to find out less than 3-months later that Bridget was pregnant with Brady's son.
"It was definitely a surprise for both of us," the model mama previously told Vanity Fair of the drama at the start of her relationship with Brady. "In the beginning you're living this romantic fantasy; you're thinking, This can't be true, it's so good! And then, Whoops—wake-up call! We were dating two and a half months when he found out, and it was a very challenging situation. Obviously, in the beginning, it's not the ideal thing."
And while those particular comments may not have caused any controversy, the former Victoria's Secret stunner revealed, in the same interview (which was accompanied by a topless cover), that she considers Bridget's child to be her own.
James Haynes / Splash News
"I understand that he has a mom, and I respect that, but to me it's not like because somebody else delivered him, that's not my child," she said. "I feel it is, 100 percent. I want him to have a great relationship with his mom, because that's important, but I love him the same way as if he were mine. I already feel like he's my son, from the first day."
Safe to say that didn't go over to well with Moynahan, who, at the time, was said to be hurt by Gisele's remarks.
Jump to five years later and Bündchen has two children of her own with Brady, while Moynahan has found love with Charlie's Angels director Joseph "McG" McGinty Nichol.
"I have a relationship with these people on a daily basis," she told More magazine back in 2011 of Gisele and Tom. "I'm raising a child, and it's public. The media creates these dramas, and that's not what's happening in my life."
She added: "My son has two loving parents and an extended family, whether it's cousins or stepmothers or boyfriends. My son is surrounded by love."