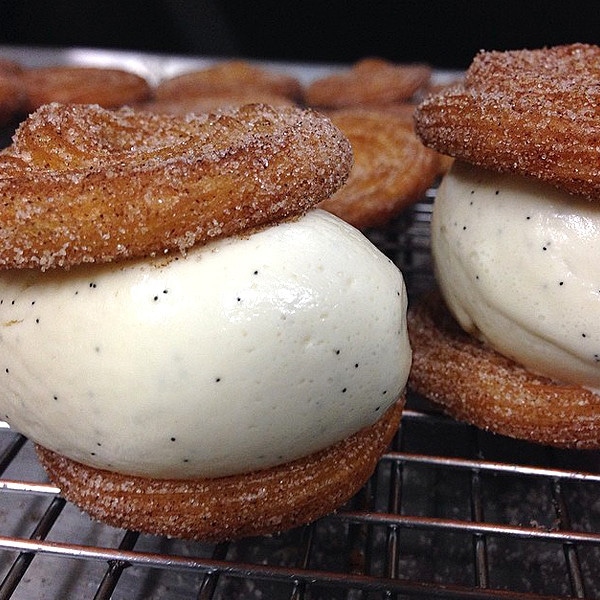 Facebook
In terms of trendy hybrid food creations, Dominique Ansel's cronut has staying power. Unlike most of the monstrosities that popped up in its wake—the combo foods you'd eat once just to say you did—the cronut has the power of longevity. People will go back for more. 
Los Angeles-based Churro Borough may finally have found a worthy successor, another dessert that has the potential to be more than just a flash in the pan: The churro ice cream sandwich, a treat both crispy and sweet.
It's the brainchild of chef Sylvia Yoo, who tells Chow she was "inspired by both Los Angeles street food and street art culture," combining two popular L.A. "street desserts" into one.
Yoo first had to perfect her churro recipe, and she says she has, creating something "almost beignetlike, with a nice dose of moisture on the inside." They're then paired with one of four signature ice cream flavors—horchata, Mexican hot chocolate, vanilla custard, and Spanish latte. There are also seasonal options like orange creamsicle and caramel apple pie.
In case you're wondering (though we doubt you were), TIME had to be a buzzkill about it and count the calories: According to Alyse Levine, a L.A. dietician, the churro ice cream sandwich probably has around 410-500 calories, with 22-26 mg of total fat. 
WHO CARES? IT LOOKS AMAZING.
Yoo will next venture into the world of ice cream shakes with churro dipping fries and Churrons (churro-flavored macarons), but in the meantime, you can next find Churro Borough at the L.A. Street Food Festival on June 28.